Introduction
Welcome to Forgotten Gods forgotten class edition! Reaper is not the most popular combination. Outside of Demonslayer set it doesn't really offer much of a top build.Well let's change this.Which is the fastest DW cold melee out there? Yeah I have some double rare greens ,for sure they help my cause.
Update for 1.1.8.1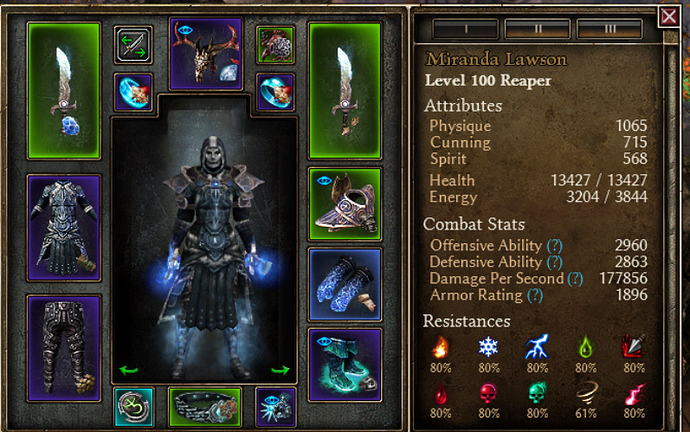 permanent buffs, with Lethal Assault and Soul Harvest being active.
GRIM TOOLS

https://www.grimtools.com/calc/mN4mppm2
Decided to delete last update and provide new char. Full vitality to cold conversion is used and vitality devotions like Scales and Rattosh. Build is suitable for Crucible, for SR 75/76 good enough, for higher shards no. Also Ravager kill with two consumables and Reaping Strike over Belgo Shears. Videos:
Build
GT - https://www.grimtools.com/calc/L2Ja3akN
Key items are two chillstrifes for cold RR,belt for conversion. This belt is way better than any legionaries, cause converts flat vitality from Soul Harvest and Harbinger to cold. Two parts of DM for set bonus,Ravager helm for extra RR. Relic is Serenity. NOTE for Crucible you can change component in chest to Bone
offense:
+3k OA
+almost 25k WD
+3.1k cold modifier
+190 % average speed
+superb RR
-40% veil
-20% chillstrifes
-18% amulet
-10% helm
-23% Murmur
32 flat storm
25% Ultos
+racial damage,especially humans
+100% wps with best for dw melee
defense:
+decent DA with OA shred
+24% Life steal
+damage reduction from item procs
+Dodge and Deflect
+CB Serenity+Ghoul
Videos
Gladiator https://www.youtube.com/watch?v=GSgL3q92NbY&t=4s
MQ https://www.youtube.com/watch?v=hONZQ0dGgEI
Lokkar https://www.youtube.com/watch?v=qW2syG0wxg0
Crucible
I lose a lot of time because of lag. Good players with better specs can probably do 4x runs and times like 5.45. Kuba is usually slow for cold builds, here is decent, I beg for double Reapers on every wave:

Success rate is close to 100% ,super safe build.