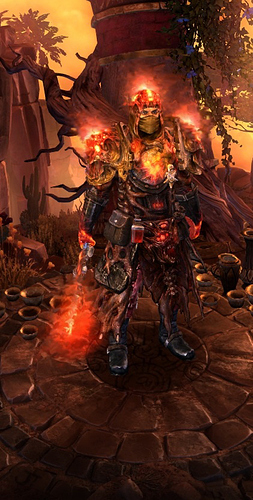 15th March 2020
Update 1: Updated for new 1.1.6.2 patch. Additional GoE, 2x Prime Ring of Morgoneth; increasing Biting Blade DPS by 28%.
The Build


https://www.grimtools.com/calc/r2B90wKN
With all permanent buff + Ascension, Soul Harvest, and Hungering Void.
DPS shown is Biting Blades.
Build Feature

Upside:

Fucking Insane cruci clear speed
Very resilient, hard to die in cruci

Downside:

Health regen is almost none due to blood rite + hungering void cost
Build Overview

Shout-out to @x1x1x1x2, @Cinder, and @RektbyProtoss who all have taken a chance in making blightlord oppressor. This is my take on it.

This is my 2nd blightlord build, trying to make blightlord's GoE able to inflict decent damage. Transmuted GoE is funny, it deals mostly acid damage, but the itemization available for it is only fire and vitality. Thus to convert all of them to vitality, we will make use of Mythical Blood Orb of Ch'thon.

For you guys that don't know, Guardian of Empyrion's (and storm totem's) transmuter is special, it is giving a new pet altogether. This makes the new pet can be affected by another damage conversion. Then Ravenous earth is used for another monster damage dealer, as supported by the set. Biting blades is used for spam skill filler, where half of its damage is converted to vitality. Credit to @sir_spanksalot who has shown it to be a good spam skill for vitality with his vitality dark one ritualist.
Equipment Choices

Notes:

Craft equipment at whoever you want, %physique will be nice or freeze res.
Get as much pierce > vitality conversion as possible.
Get max cast speed.

Core Items:

The Blightlord Set
Off Hand: Mythical Blood Orb of Ch'thon [build defining item, converting all acid from GoE and biting blades to vitality]
Medal: Basilisk Crest. [For faster RE casting. I got lucky with my prefix here getting +2 to GoE. If you don't have it. Swap one rings for Mythical Signet of the Damned]

Supporting Items:

Chest + Gloves: Dark One's pieces. [Relevant skill bonus, nice 2 piece stats bonus.]
Pants: Grava'Thul's Legguards. [Giving +6%RR for Oppressor, I also want more +celestial presence. Psyche suffix is nice for spirit. Use whatever affix you like though]
Alternative Pants: Mythical Arcane Harmony Leggings. [is always nice]
Boots: Mythical Boneshatter Treads. [One of the best vitality boots, giving a nice OA, slow res, and life leech res.]
Rings: 2x Prime Ring of Morgoneth. [Rare pierce>Vitality conversion, good stats, good damaging proc.]
Alternative Rings: Mythical Cursebearer and Mythical Signet of the Damned. [Cursebearer is always nice, signet of the damned if you don't have +2 GoE prefix in the basilisk crest medal]
Belt: Mythical String of Maggots. [Just a Vitality necromancer belt with good stats.]
Relic: Meditation. [+240% Vitality damage and 50 flat vitality damage. Get completion bonus for celestial presence]
Movement Rune: Rune of Vampiric Shadows [For more nuke and leech].
Devotions

Vitality devo with wendigo

Twin Fangs > to Ravenous Earth
Wendigo's Mark > to Summon Guardian of Empyrion
Raise the Dead > to Biting Blades
Hungering Void > to Vampiric Shadows
Will of Rattosh > to Bone Harvest
Gameplay

Keybind:
LMB: Biting Blades
RMB: Point to Move
Keyboard 1: Vire's Might
Keyboard 2: Mark of Torment
Keyboard 3: Ravenous Earth
Keyboard 4: Bone Harvest
Keyboard 5: Vampiric Shadows
Keyboard 6: Ascension

Standard procedure:
Cast Bone Harvest to proc Rattosh on multiple enemies.
Cast Ravenous Earth inside the enemy's horde, triggering continuous twin fangs.
Cast Ascension, just cast it every time it's ready.
Vampiric Shadows / Vire's might in.
Hold biting blade button while mashing RE, BH, and Vampiric Shadows buttons.

You will always want to be in the center of arena in all waves.
In boss / nemeses waves, you want the enemy to be in front of you for effective biting blades damage.

Use Mark of Torment if you want to be a rambo and facetanking Alek Meteor while being surrounded by multiple nemeses. It can also help killing Kuba faster.

Facetanking Madqueen rage mode is not recommended. Just cast RE and BH to her, kite while attacking other enemies when she's in red aura, then kill her when the aura is down.
Build Performance

Crucible:

New 1.1.6.0 video with 3 buff, 3 L1 storm beacon, and 1 L2 storm beacon:



5:05 clear time. Current fastest, slowest is 5:25. It kills quickly, can't die in cruci. Always get 4 cruci clear in one duration of the buffs.

I got 5 sec faster with softcaping BH, but build feels a bit glassier with only one pointer Haven and spirit dump, so not worth the trouble IMO.

Shattered Realm:
Haven't check. Should be good though.
Enjoy…