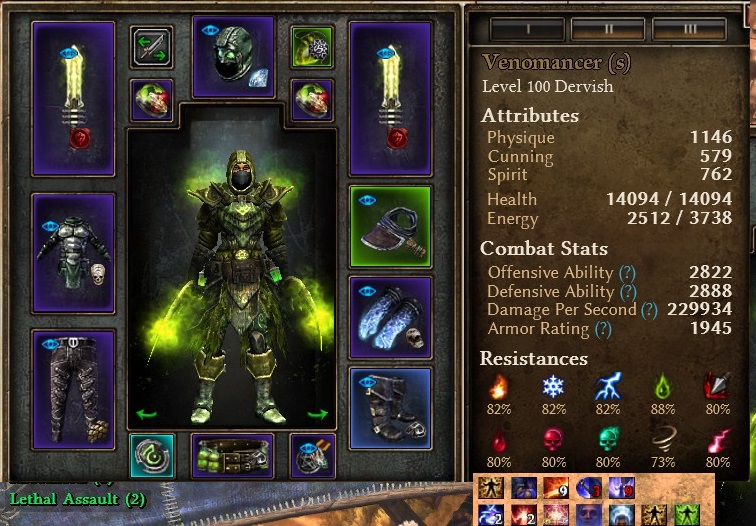 GRIMTOOLS
Venomblade dervish had changed over the summer.
FAQ

–Why OA is so hellishly low? 2600 seems like a joke.
–Well, actually, we kinda don't need it here. And here are some reasons why:

16% Crit damage is… disappointing? And there is no simple way to acquire it, because for some reason acid devotions are lacking those.
No chance on crit procs, so the fact of critical strike itself isn't vital.
And most importantly: in order to increase OA you need to sacrifice something, which I have refused to do, because, again, crit here isn't essential.
DA shred on judgment compensates low OA. (But keep in mind, that 2800 OA vs 2600 DA and 2600 OA vs 2400 DA aren't the same thing.)

–What's wrong with this devotion map?
–mY fiNEsT creATioN. Since build has 100% conversion from vitality, scales become a perfect choise for melee builds. I've tried normal map (with Bat and Eye of the Guardian), but it has been significantly worse.
* --Why Seals of Might have been chosen over Gallstones/Seals of Blight?
–Because phys. res is essential in SR.
Gear explanation

2x rings and belt - BiS for any acid build with Oathkeeper + 100% conversion.
Mark of the Forbidden - amazing medal, BiS for any acid build.
2x Venomblade pieces - helm is a perfect choise, chest for set boneses and usefull stats.
Shoulders - most of acid shoulders are garbage, Zantarian's are really good (of Amarasta's Flurry stands here for %slow res, because acid devotions lacking any CC res).
Iceskorn Talons - bonuses to RF, but mainly, it's just a consequence of poor itemization (Only 1 pair of acid gloves gives AS, the other one gives AS to Blood of Dreeg).
Gulgazor's Heart - just tiny little 12% WD nothing special, really.
2x Misery - because I like being miserable.

Shattered Realm performance

Despite having low OA and not the best % acid damage, the build is a beast in SR.
SR75-76 - I speedrunned it several times, under 9 minutes, and the only threat is (probably, because never have encountered her) Mad Queen. Apart from her, Grava + 1 and Reaper +1 can be tough. Slathsarr is a bitch. (surprisingly, right?). Agroabuse isn't required.

Here is the run (Slathsarr included)


Here is another one

Deep SR

Build is capable of passing SR90 (that's where I usually play), however, keep in mind, that regardless of build's strength, it's still melee. So you'd better play safely. Kiting is also required, especially against Grava, Kuba and some Shattered bosses (Gargaban's second phase). Some mutators are not welcome (-%hp, -AS, -total speed, +% acid resistance to mobs, shattered).

Reaper can be annoying


Some arenas are hellish (Gargaban single handedly)

Crucible performance

I'm not the biggest fan of crucible (and mediocre pilot), so @Slev1n have made a run - 5.45

In my hands, it's usually 6 - 6.20

@mad_lee have also tried this build and come up with his glassier, yet slightly faster spec. (Link in the video description)


Naked crucible is possible, however, high piloting skills are required.
Celestials

Avatar of Mogdrogen was an easy one (I forgot to buy healing potions, but it still went smooth)


Ravager of Flesh takes some kite in second phase, and I've invested several additional points from judgment to dual blades


Callagadra - I wasn't able to beat it w/o pharm.

Crate of Entertaiment - possible, however ... it takes emotions, it takes dedication, it takes dedication, it takes a death, and I dislike this boss in general.
Credits
@mad_lee for helping with the build and for crucible spec.
@Slev1n for crucible run.