Choosing a component skill for one of the strongest Vitality builds ever will be like
Foreword
Blightlord is one of the strongest sets in the game and probably the most versatile one (bar Shattered Guardian set). Blightlord's Opressor has been done countless times. I decided to post my version simply because I think it's the best one yet and it's a real blast to play.
The Build
*Craft for slow res
**Affixes on greens don't matter as much as long as you patch your resists/cc-resists but for optimal perfomance look for "Formidable" Grava pants.
***For faster Crucible runs bind Rattosh to Ravenous Earth.
Blight-rotting questions
Seal of Skies on a Vitality build? Why not Seal of Blight with all of the Acid to Vitality conversions you have?
Because I have tried it and skill from Seal of Blight sucks ass, plain and simple. Less damage, clunky short cone and what's most importantly - worse adtch.
Isn't Path of Three messing up conversions on Ravenous Earth? Why not Harbinger of Souls?
It does mess it up a bit indeed. With Harbinger of Souls RE's damage is a bit higher however cooldown is 1,8 seconds versus 1,5 seconds, plus all other abilities are sped up so Path is a much better choice here.
Do you really need so many points in Haven?
Yes, one of the ideas behind the build was to maximise Healing Effects for better sustain.
Siphon Souls? Do they do anything here?
They add a little bit of survivability for really tough spots. Not crucial to the build really.
Gear/Skills/Devotions/Leveling
Core of the build is Blightlord's set. Everything else is kind of crucial here because of conversions and skill points. The only flexible slot is boots slot, green boots with physical resist and some slow res will work as well. Grava pants can be changed to something else but they give whopping 6% passive RR due to points to Celestial Presence and Spectral Wrath, so try to get them.
I have tested Judgment too, and while it's an amazing proccer for Rattosh, Bone Harvest with maxed out Soul Harvest is better due to flat damage to Chain Lightning which improves ADTCH quite a bit. Devotion wise this is my favourite Vitality devotion map, not much to add here.
For leveling check leveling guides on this forum. This is an endgame build and works as advertised once you equip all the items/skills/devotions at character level 100
Gameplay
In Crucible everything is facetankable. Don't forget that you have Mark of Torment and high CDR so do use it on tough waves just to be extra safe.
In Shattered Realm Shards 75-76 are a walk in the park for this build. I have completed Shard 90 with it but it was not a pleasant experience.
Stats
General with Ascension up (up ~70% of the time)
Ravenous Earth damage with all the procs up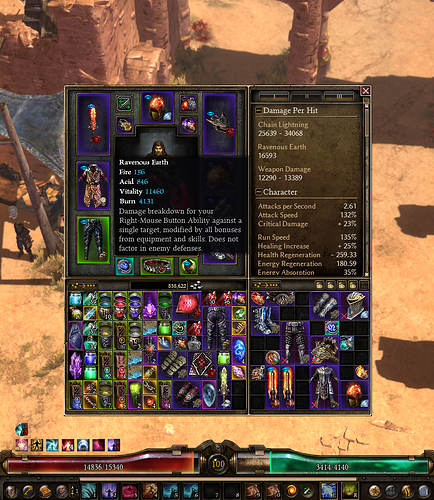 Defense with Ascension up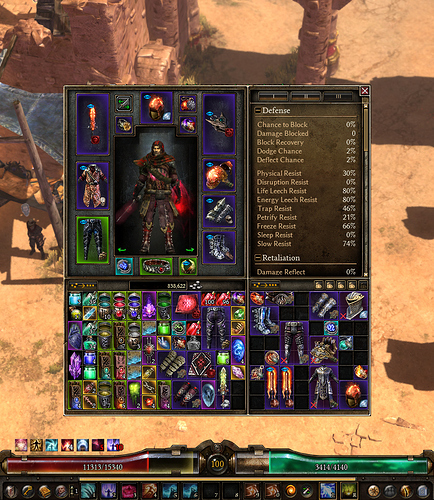 Videos
150-170 Crucible Gladiator 4:37 run
Shards 75-76 7:55 run (one death due to lag)
Supertolik's Crucible Gladiator 150-170 "naked" extra spawn 6:13 run (no buffs/no banners)
Supertolik's Shards 75-76 7:10 run
Shard 90 boss room (two deaths)
Slev1n's Crucible Gladiator 150-170 4:28 run
romanN1's Crucible Gladiator 150-170 4:44 run
banana_peel's Crucible Gladiator 150-170 4:27 run
In Conclusion
Thanks to @supertolik for kindly agreeing to test this build in the tough environment of "naked" Crucible. Also thanks to @banana_peel for reminding me to remove a point from Dread to avoid confused mobs in Crucible and thanks to @Slev1n and @romanN1 for recording the videos of their Crucible runs. And thanks to @Tararihen for guide picture idea.