Winter King's Might Anthology: Chapter 1 - The Acid
All underlined expressions below are hyperlinks                                                   variant by @grey-maybe's if he were to pilot himself
---
The build's only active source of damage is Winter King's Might from Crown of the Winter King but we stack a great amount of flat damage to make up for it. The skill has a solid base of 165% Weapon Damage and a lot of Cold and Frostburn damage.
---
Equipment notes
But first things first, we convert 100% Elemental Damage to Acid Damage (well 95% with average rolls) thanks to the following combo:
There are also other conversions:
---
I calculated flat 100% Weapon Acid Damage to amount to ≈ 1000 and flat WKM's damage to ≈ 2500. It's increased by
fully converted and maxed out Lethal Assault
Solael's Witchfire, Possession, Second Rite, Blood of Dreeg
+damage skill modifier to Blood of Dreeg from the sword
---
Additional gear notes
Haunted Steel

/ Bloodthirster allows facetanking the hardest waves and Rashalga
the chest armor, belt and shoulders have great stats/procs and are worth checking out
I've abandoned any objections towards gg greens in a pursuit of advancement in meme science.
---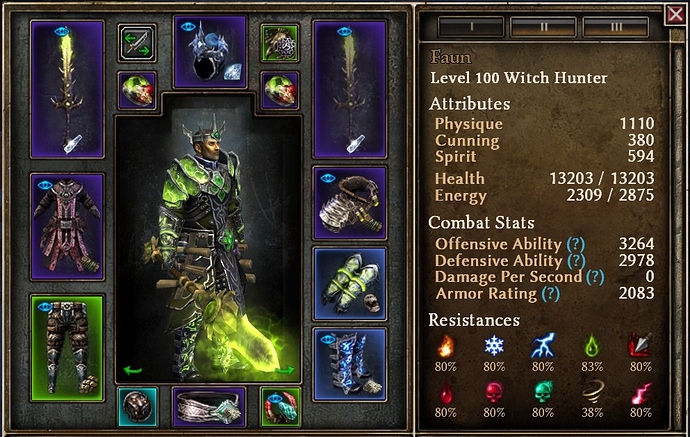 ---
Devotion notes
We abuse the 3-projectile nature of the main skill to proc Twin Fangs with 50% chance per cast.
It's not only crucial to our survival but also deals a ton of damage since our 100% WD is around 1000 and we convert Vit partially.
Rumor is procced by Phantasmal Blades with 94% chance on a single target IIRC due to its cooldown and 3 projectiles.
It also spreads so no problem here. It's a far better proccer than Ring of Steel

Meteor Shower deals a ton of AoE damage and is procced with 100% chance by Shadow Strike that we're casting constantly.
We're not taking its CDR node so that it's synchronized with the devotion cooldown.

6 Skeletons deal a lot of damage since most of it is converted to Acid
I tried swapping Raise the Dead and Meteor Shower bindings so that I don't have to Shadow Strike too often
but couldn't keep the number of skeletons up with 50% proc chance.
---
---
Crucible notes (subjective)
focus pets on single targets
fight mostly in the middle to utilize AoE (WKM, Meteor Shower, Beacons)
try to damage multiple bosses / targets at the same time
always fight at least 1 (crucial) enemy at a melee range

to hit it with all the projectiles
and cast (animate) ABB / SS quickly
---
---
As for SR - I'm a total noob at it, need to practice more before I can test builds properly.
---
@grey-maybe's work:
_Faun (s).zip (868.2 KB)
---