Lore story excerpt and flashy a bit racy picture coming soon™

Summary
An update on previous builds by @Plasmodermic and @AlexGoldFish_322, after we got some nice treats in the recent patch.
Updated build by @tqFan and @Ulvar1 for more sturdiness:
https://www.grimtools.com/calc/Q2z83MAZ
Even moar MI power:
Soon™
Initial build:
https://www.grimtools.com/calc/r2Bv5Yz2
Mayhaps you have to adapt components and Augments based on your weapon roll
Ingame Screenshots- stats: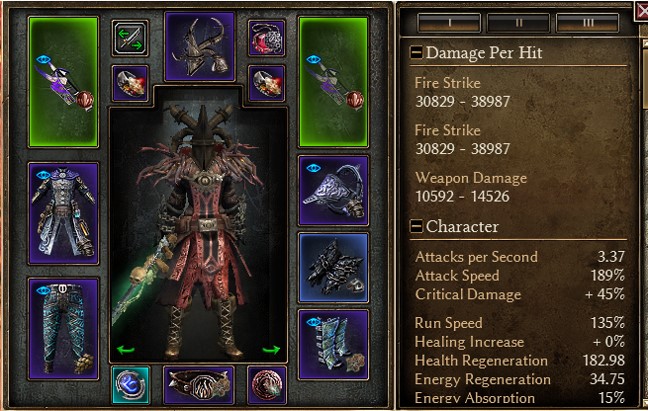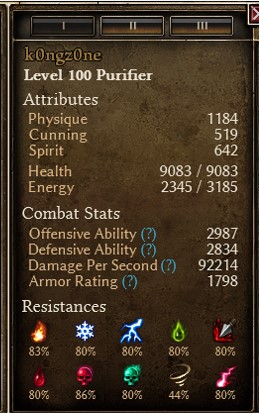 Items

Weapon: build defining pass through and fire strike bonus. Priority here would be Attack Speed ('of Alacrity' as yellow Suffix or Scrochwed Runes as a green Suffix)
Rings Double Jaxxon for more AOE and effects. Freshly buffed in 1.1.9
Helmet I really like tis helmet, that is why I wanted to have it in builds. Attack Speed , a nice -rr Proc. Also freshly buffed in 1.1.9
Amulett: All a ranged purifier could wish fore. ADctH, +inq, flat damage
Belt: previously it was Cinderbelt for the AOE proc, but the build is really starved some some +Demo Skills.
Shoulders: Hidden Gem of 2h ranged builds. The MI version would be this one with suitable affixed to your liking: https://www.grimtools.com/db/items/8248
Gloves: +Phys res, AS, flat Damage,
Boots:+2 for AoC and mines, stun res, cool proc with damage absorb
Relic All a ranged purifier could wish for as well. ADctH, Proc, AS, +inq
Medal For the proc, therefore the non-myth. version is BIS
Devotions

Some more procs, attack speed , -rr from Revanant and Ultos and Kraken and Hydra being a 2h build
Performance

So far I managed to do a SR65 and clearing the campaign without Problems.
I will update soon with some better metrics or someone can give the build a try in CR or SR?
I strongly believe in its power and it kills your framerate for sure!
Leveling and Beginner Guides

An old build diary but still applicable
DW Firestrike Purifier: A build diary from Normal to 170 Glad
Beginner Ranged Purifier
[1.1.3.1] Budget Lightning DW Ranged Purifier
Credits
Thanks to @grey-maybe , @Monceaux for helping figuring some stuff out in discord!
Horns of Korvaak ranged build by Alex:

I will upload a char file and some Screenshots as soon as I am on my desktop again to do so.
Feedback and optimizations suggestions are very welcome!
Thanks you all !!
[edit: added some nice pics ™]