Horn of Gandarr, after plenty of buffs in the recent patches, remains a meme-tier skill. Even if some builds include Horn, it's never a main skill, but a filler (with varying degree of importance). Why though? It has decent itemization, it can be played as cold, pierce or elemental (variety of builds), it has a good legendary set and it's cheap skill point wise. At first glance, it should be possible to make a true Horn of Gandarr build, but…
1. Current situation
Let's look at some recent builds which use Horn of Gandarr:
First thing you realize when you start playing those builds is the fact that… you don't really need Horn of Gandarr. It's rather clunky, it doesn't deal a lot of damage (it's ok with Codex), elemental builds don't need damage reduction (Aura of Censure already has it) and you need Rimetongue set for crowd-control aspect to be useful. You'd probably be better focusing your build on some other skill.
I play pierce version with Phantasmal Blades and the more I play, the more I feel like I don't need Horn at all and putting those skill points into either Blade Trap or Phantasmal Blades would make my character better. Same goes to the build with Shadow Strike - you could abandon Horn and focus on SS and you'd probably get much better results. Purifier on the other hand has only Grenado so Horn is needed there (unless you make completely different build) but it still plays a secondary role.
Of course, there is nothing wrong with those builds. Horn still has its uses and it's pretty good filler, defensive tool (except elemental versions), devotion proccer, etc. It's just… there is "not enough" Horn of Gandarr in Horn of Gandarr builds.
Problems start when you really want to make Horn your "main skill". It should be possible, there are items to support it. But you still can't use it on its own and no matter what other skill you'll use to supplement your build, it will likely overpower Horn and push it back into filler role.
2. Why Artifact Handling instead some other buffs?
It's simple - this will buff potential builds that will use Horn as main skill, without touching builds that use it as a filler, debuff, supplementary AoE damage or devotion proccer.
Those builds are already skill-point starved. You can't have powerful Horn of Gandarr, Blade Trap or Grenado, and Phantasmal Blades, Blade Spirits or Shadow Strike on top of it. You have to sacrifice something to make Horn of Gandarr more powerful with Artifact Handling but you still can and probably need to pair it up with other skill (like Blade Trap or Grenado) to make the build work.
3. Lore and RPG aspect
I have to admit - this bugs me more than it probably should: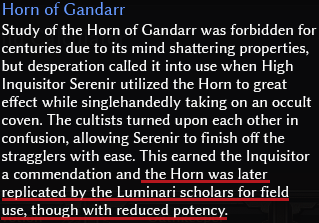 I guess it's a common practice at the Luminari Academy to skip Horn of Gandarr lectures and practice…
As for RPG-feel - Grim Dawn is lacking bard-style character and HoG is the only opportunity to make enemies bleed from their ears with the power of our music. Damage is almost there (for thematic/role-playing build at least) - we only need a bit more CD reduction so we can constantly play it. It's probably possible now to make 0 CD Gandarr right now but I'm not sure if such build would playable.
My bard character would be an Infiltrator. First I'd prepare my stage with Inquisitor Seal, then I'd introduce myself with Word of Pain and make sure my audience is seated comfortably in Blade Trap, and ready to hear my Horn ear-piercing or heart-chilling performance.
Paladin would be my next choice for thematic Gandarr build. I'd name it Herald of Empyrion - travelling the land and spreading the Light of Truth. Those deemed worthy would see Mercy of Empyrion while the rest would experience his Judgment. Funnily enough, double- or tri-elemental Paladin should be quite good with the change to Guardians in the next patch. Still Herald would not be as good as the Bard since there is no obvious synergy and itemization between Horn of Gandarr and any Oathkeeper abilities. You'd have decent Horn, lots of resistance reduction, mediocre Judgment (another skill that could use some buffing or some better synergy/itemization with other skill - at least fire/cold/lightning version) and Stormfire as a filler. It would work and it probably would be good enough to escape meme-tier, though.
4. Final words
Proposed change doesn't affect any existing Horn of Gandarr builds but they can modified to exchange some of their skills (like Shadow Strike or Phantasmal Blades) for more powerful and - in some cases - spam-able HoG. There would a choice to focus on the Horn or keep using it as debuff/filler/devotion proccer.
Perhaps Rune of Hagarrad or Rune of Kalastor builds would pick it up since those builds use Artifact Handling anyway. This would provide a small boost with low skill point investment for those builds, especially non-elemental versions (Aura of Censure kinda makes Horn partially useless and non-elemental Rune builds could use some love).
Then, there would be more opportunities to make thematic, role-playing builds without them being completely meme-tier.
Finally, I see no reason why only one artifact available to Inquisitors should not be affected by Artifact Handling, especially when it's already a niche and rarely used skill (and almost never as a main ability).
btw. this thread has nothing to do with the fact that my burn-focused Paladin will get totally rekt in every possible way by the next patch and I'm already looking for potential interesting, fun and "different" builds to re-spec it.