Anyone wearing the set nowadays? I think it's pretty good. I'm sharing it not as a build, it's as simple as it gets, but more as a reminder, to check if others are playing it and potentially what time could you achieve as a skilled player.
GrimTools
recommended
Update: Haunted Steel boosted sustainability a lot so that the character can take multiple bosses at once
Skills
Not using Ravager's Deathgaze from the helm because it doesn't seem to be worth it and has long casting animation.
Devotion bindings
Tested on a single dummy in Homestead. I want instant RR application. For Eldritch Gaze only FS does that. Next is Elemental Storm. I've found out it's procced very well by Storm Spread even at a distance. Blazing Eruption from Korvaak's Deception is perfect for Meteor Shower - it has 100% chance to proc it and with CDR I have MS recharge is just under BE recharge.
Mad Queen
This video was made with the character from the 2nd Grim Tools with less armor but the same offensive potential.
Tested it with the newest one and it's still consistent 7 - 8 seconds not dying.
But when I rebound devotion skills for testing purposes she started killing me every time instead,
probably because I was fighting for a second too long so it's close and details are important.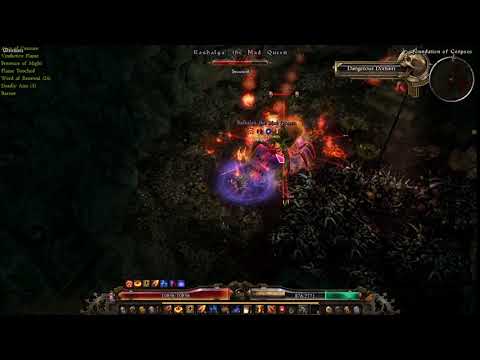 Crucible - can facetank a lot and every death is always due to some stupid mistake. I'm not a skilled player so I only started approaching 6 minutes times at best. Here's some gameplay: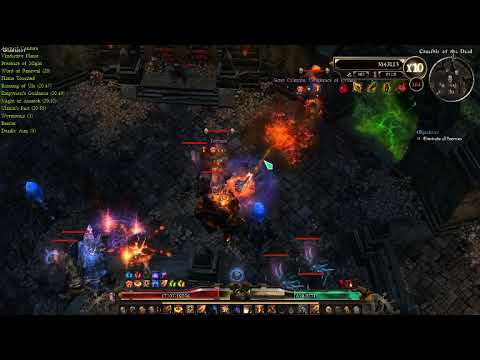 Other remarks
I don't use Disengagement Ishtak's Mercy rune anymore because

the jumps are unnecessarily too long
mistakes are easy to make and costly
very swag though

I have above average rolls of Physical Resistance, ADCTH and Defensive Ability. I haven't tested the build with worse rolls.