Links
Cataclysm (not supported)
Cataclysm Redone (latest, not compatible with Cataclysm characters)
[spoiler]
This mod is a reworked and improved version of my previous mod, Dawn of Heroes. It adds 8 new classes in addition to 6 vanilla classes, which aim to enhance your gameplay and to diversify your gaming experience, allowing to play classes/combinations the vanilla game lacks of. For example, you can play as a healer with your friends if you pick the Druid mastery, or you can control an army of creatures if you combine the Druid with the Voidcaller, or you can engage your enemies with your fellow hirelings' ranged attacks as a Mercenary and finish them off with devastating melee skills.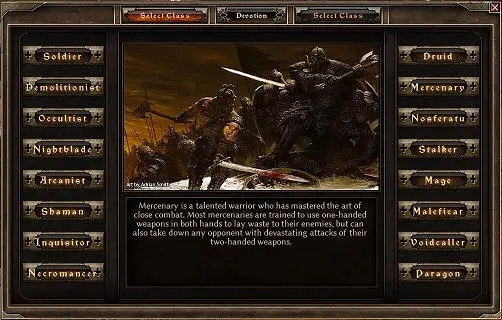 Features
Devotion cap increased to 64
No static levels for enemies
Regular mobs, champions, and heroes density dynamically changes from x1 to x2
Amount of iron bits dropped increased
Devotion shrines available across all difficulties
Regular merchants can sell rare/epic/legenday items for custom classes
Some faction merchants sell new potions that will help you in your adventures
Increased smugglers' inventory space (Stasher v5 by tt300)
Auto-pickup for vanilla and custom components (Auto Pickup aka People Are Lazy by Elfe)
All crafting materials can be shared with your other characters via Shared Stash
Shortened some effects' description to match other effects (for example, "Increases Health Regeneration by %" now looks like "+% Health Regeneration")
and more
Gameplay
Regular mobs, champions, and heroes density dynamically changes from x1 to x2. Their loottables are unchanged to avoid conflicts when Crate adds new items. Instead, heroes, champions, bosses, and rarely regular mobs, will drop a new item called Mysterious Locker, which in turn drops various items when you use it, such as crafting materials, augments, custom components and blueprints, and items with affixes for newly added classes. There is also over 30 new legendary weapons that can only be found in Mysterious Lockers.
Masteries
Druid is a versatile caster who draws on the vital energies of life and nature, allowing them to harness energies into a devastating force, or recycle destructive magic to heal their allies.
Mercenary is a talented warrior who has mastered the art of close combat. Most mercenaries are trained to use one-handed weapons in both hands to lay waste to their enemies, but can also take down any opponent with devastating attacks of their two-handed weapons.
Nosferatu combines the art of close combat with the entropic energies of death. The slightest touch of their weapons consumes their enemies' life, and their foul magic spreads disease and incite madness, sowing chaos and destruction on the field of battle.
Stalker controls the battlefield from afar using both ranged weapons and eldritch powers of the Aether to attack their enemies.
Mage is a pure offensive caster, master of the elemental energies of Fire, Frost, and Lightning. While the Mage lacks of any defensive skills at the beggining, pretty much every offensive skill can incapacitate enemies for a short time, and a good mage is able to destroy the whole armies without a single hit from their opponents.
Maleficar, the accursed one, is a mage who draws on powers that others fear. Their twisted magic allows them to siphon off the vital essence of their opponents, inexorably consuming their victims lives, feeding and empowering the Maleficar.
Voidcallers are masters of the art of summoning, drawing their power from the very depths of the Void. They prove equally dangerous in close combat and casting various spells that leave enemies unprotected, and their loyal chthonian minions will quickly eliminate anyone who survived the Voidcaller's attacks.
Paragon is a warrior who has harnessed elemental forces, making Fire, Ice, and Lightning do their bidding. They combine mobility and defensive techniques, and are able to attack at range with bolts of elemental energies or in close combat by channeling raw magic through their shields, inflicting massive Elemental damage-over-time upon their foes.
Installation
Extract to …/Grim Dawn/mods/, launch Grim Dawn, click Custom Game and select cataclysm ~ world001.map.
Credits
Elfe for People Are Lazy
jiaco for Grimmer & Grimmest
Unknown authors from the Internet for skill icons
Download
Attachment: 20170817163126_1.jpg
Attachment: 20170817163150_1.jpg
Attachment: WhatsApp Image 2017-10-17 at 14.30.50.jpg
Attachment: WhatsApp Image 2017-10-17 at 14.31.08.jpg
Attachment: Snap1.jpg
Attachment: 20180302170358_1.jpg
Attachment: 20180414190137_1.jpg
Attachment: Entropy.jpg
Attachment: lifesteal.jpg