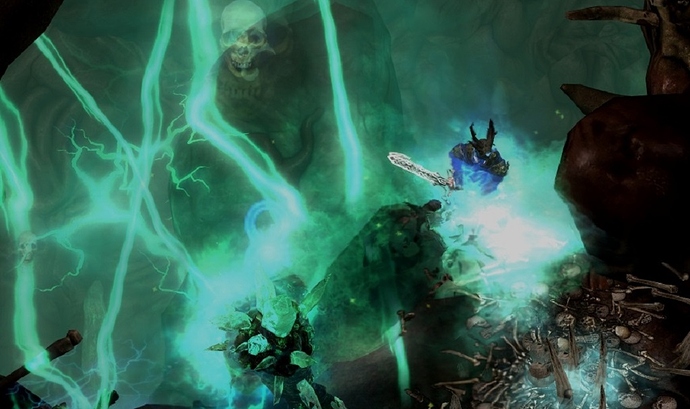 Introduction:
Shout out to Nikof for sending me a copy of my original post he had open in his browser after the wipe.
The time has come for my first new build of the Forgotten Gods expac. I'm sure there have been plenty people have looked at the bonemonger set, wonder how the f*** to properly utilize it. Look no further friends. I also will be posting some build variants that also have good performance while having different play styles (videos for these will have to wait for now) My play time generally is somewhat limited so I will update this post as I can. I also hope to be putting up a new post for my conjurer soon (post is updated now)
The Build:
Build in video - https://www.grimtools.com/calc/4NOne7eZ
Alternate with direwolf crest for %beast damage + more flat aether - https://www.grimtools.com/calc/Q2zqw0dN
Videos:
Bonemonger's Fury - DW melee auto attacker
SR 75-76


Boss fights at ~6:15 and ~16:00 marks… Also you can see me die to arcane mobs at ~13:30
I also forgot to put Mark of Torment back on my bar after testing something against the dummy… So theres that lol
Music: DANCE WITH THE DEAD - Loved to Death
MadQueen
Temporal Bone-Blade - 2H Caster
Crucible 170
Most of the bonemonger builds here clear in the ~7:30 range on my computer (which means probably around ~6:30-7:00 for someone with a good one) The exception would be the Aprocstate, but it is the most fragile of the apostate builds. (Best clear was 6:35, but only cleared 2 out of 10 runs)
Mad Queen
Note that 387k boneharvest crit

The Spinmonger - DW Spin2Win
SR 75
The Aprocstate - Caster 1H/Book
~6 sec MadQueen
Pros:
Dual-wield melee
very high flat absorb (near 600)
very high life leech
decent CC resists
aether damage
-154 aether resist + 30% resist reduction
Easy to re position for a build reliant on seals
Massive number of keybinds
Lots of Cool blue-green aether damage procs flying around
Lots of Bonewaves
Cons:
Attack speed isnt at or near 200%
Lowish armor
Mid tier physical resist
Dual-wield melee
Massive number of keybinds
Requires a MI weapon**
Overall this is a great build for multipurpose farming. You will feel invincible in main campaign. You will notice I listed some things on the pros and cons… Depending on the player they can be either. As far as DW melee goes, this is my new favorite character overtaking my classic blades of the luminari infiltrator as my most played character. Which is awesome considering I always felt apostate was an underplayed class anyways… Synergy classes ftw. Personally I love having lots of hotkeys to manage, so this is my wheelhouse.
Gearing:
Obviously we are going full Bonemonger set here. We also take two piece Krieg for some extra physical resist +aether damage boost. The Magelord rings are taken to convert some of our elemental damage to aether as well as the sweet proc. Korvaak's brand or direwolf crest to enable DW. Serenity for the awesome resist, +1 all skills, and the decent circuit breaker. The pants are mainly take just to over cap resists. Good alternates include Mageguard Leggards, Wraithborne Legwraps, and Legwraps of the Tranquil Mind. Each of these options require you to shuffle resist augments, and to adjust physique/cunning/skill points to optimal levels. They each have their strong points as well… but some will mean using potions to overcap chaos or poison resist. (having near or over 30 overcap on everything is best)
**The weapon Heart of Theodin Marcell is the build enabler. Finding a good roll will take awhile. Ideally you want to find the Aetherfire prefix + an attack speed suffix… but Aetherfire prefix + anything will do for most content.
Devotions:
Alladrah's Phoenix (Ravevnous Earth) , Ghoul, Bat (Inquisitor Seal), Widow (Fleshwarped Strikes), Spear of the Heavens, Aeon's Hourglass (Horn of Gandarr) are your main goals.
Gameplay:
Teleport/ Run in
Drop Inquisitor Seal
Cast Ravenous Earth
Cast Bone Harvest
Cast Word of Pain
Cast Siphon Souls
Cast Aether Corruption (generally only casting if a group of heros or a nemesis)
Fleshwarped strikes while doing all the above generally on cooldown/as needed
Cast Mark of Torment if predicting damage spike
Watch for phoenix fire proc to get to 1second left, cast horn of gandarr. Since TD as 100% proc rate on horn, this gives back to back procs for big uptime on near 600 absorb.