Introduction
Forcewave comes in different shapes and sizes. I wanted to explore the option of lightning one. To my surprise I liked Warder version better than Tactician. The support of the skill is minor outside of conduit+helm, but this build is surprisingly decent. Credit for the idea to @malawiglenn
Build Update 1.1.6.2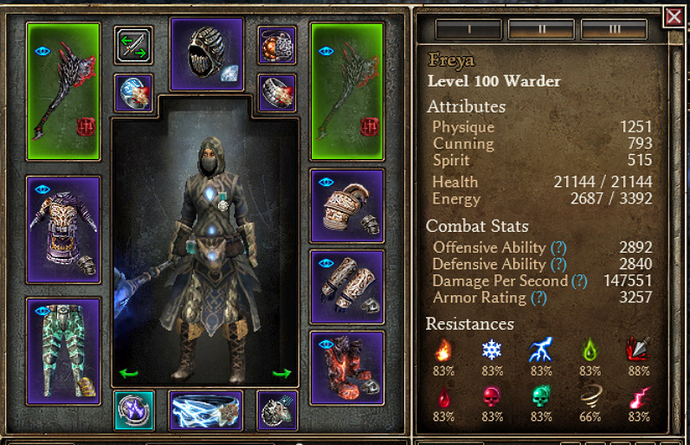 pic with permanent buffs, damage for Forcewave
GRIM TOOLS

https://www.grimtools.com/calc/O2GOvgl2
devotion map is slightly changed, Korvaak is amazing here, DA/OA shred and damage. Tower for better DA/resistances

changed pants/rings. Better physical resistances as well. Crafts are with % phyisque
Video from Crucible run of 6:39, did 3 runs, perhaps with luck should can do under 6:30 but it depends on mutators and how many light resistant enemies you'll encounter. Valadaran and Grava are very slow.
Original build
GRIM TOOLS

https://www.grimtools.com/calc/8NKOMDoN
Items selection is outside of build enabling helm and amulet, to take 3 parts of LD set for armor and resistances, belt+relic for Shaman lightning support, rings for flat damage, pants for slow resistance. Medal+Boots boost my DA and Forcewave nodes. Very import item is the weapon. It's hard to net useful both the prefix and suffix. Imo replacement should be Ultos weapon, if you want no green build.
Devotions are full offensive, both Spear and Ultos, also I am fan of Tsunami proc. Wind devils can proc it often.
Performance
This build is more or less made for Crucible bannered. Banner and buffs gives enough OA to fully utilize the monster crit damage. Build can do slightly under 8 minutes on average with some peaks and downs. AoE damage is great, single target is kinda meh.
I am yet to record Crucible run, but here's MQ one. It's average speed,but not bad considering -20% cast speed mutator, video: