Yo guys.
Today I'll share my first succesfull build, using RtA. Before I tried twice with acid retal, and it was

I havenot experience with shielded supertanks or retal, so I played it as a regular caster, just a bit more tanky than usual.
Build
>>>grimtools<<< 0 green items used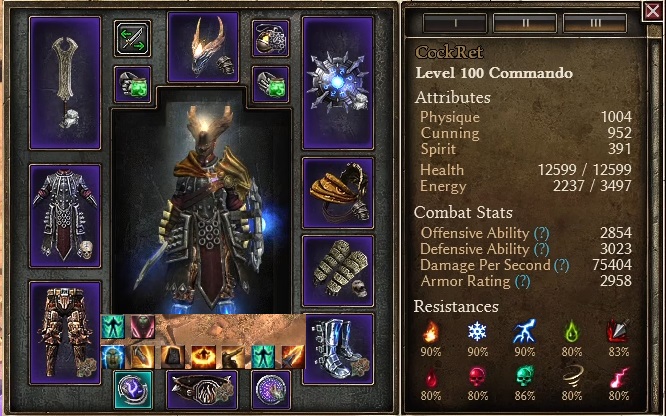 About build
Build use Turrion's reprisal shield to add 16% RtA to BwC, Beronath sword to convert elemental dmg to physical (non-myth version for less mp consumption), 2 dawnbreaker parts for massive retal dmg and another usual retal stuff.
In gear and devos I've to take so much items for mana regen, spamming BwC for commando isn't cheap.
Also, BwC transmuter doesn't increase RtA dmg= > impossible to play with transmuter.
Build was made for 76SR and cruci, and clears it easily. But don't try just facetank all the boss chunk, 2 times out of 3 it will finish tragically. Need some kiting.
In general, build have same or a bit less dmg, than tier1 elemental casters with 5.15-5.40 cruci timers, but with retal kills melee enemies faster, and shows impressive cruci timer.
I also tried this concept as a shieldbreaker, it have ~same dmg, but survivability
Videos
SR with old setup with DG. New one performs better, but haven't recorded vid yet.
The End
Commando power