Hello World!
First, credits to @mad_lee for creating the original Dark One conjurer after the set was revamped in 1.1.5.0, being the first in these forums to showcase the newfound strength of the set. Also, shout-out to @Nery and @sir_spanksalot for making respective cabalist and ritualist.
This build was born in hardcore mode which I play legit and self-found. After collecting some realistically obtainable gear, I realized I had arrived at almost exactly the same conclusions as Mad Lee. Build was super solid and fast enough for most people. But NOT FOR ME!
So I copied the char onto softcore, opened GD Stash and viola. Thanks to the purple MI added in the update, this here is probably the strongest no-green all-round Dark One conjurer up to date.
crafted with freeze res
ele res is 15% higher, and phys res is 56%
max %vit is nearly 3,450%
average no-gimp mutators, bad enemy combos, feels like it's possible to approach 5 minutes on top pilots with some grind
with Fevered Rage it can probably go sub 5 but I wanted to stick to one all-round setup (Fevered is a no-go in SR over 80-85)
SR95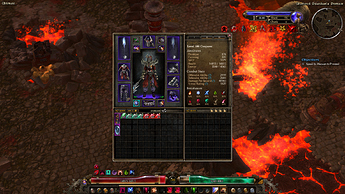 NOOB ME THIS: WHY IS DARK ONE SO GOOD?
Summary

First, because it has better life leech than just about any melee build on Ghoul - as long as you got your stuff deployed - just about ALL THE TIME. Its peek heal is well into six digits per second (yes, health regen afficionados, Dark One can reach the equivalent of 100k regen lol). That means until things start dealing that much dmg you're just about immortal. That is somewhere in the SR eighties.

Second, most if its damage is passive. It means you activate a skill, and it keeps dealing dmg all on its own for a while. During that time you can do whatever you want. This is why charging Savagery is noty a bad idea. This is s also why 0 cc res does not hurt at all - your skills keep dealing dmg and healing you even if you're stunned/frozen.

Third, it's got pretty good AoE. In fact, in this installment it is competitive with the best - lightning Cyclones, demo fire/burn casters, AAR.
GEAR
Summary

This particular setup got 3 items that require hundreds of hours of farming. For more realistic setup try this or better yet Mad Lee's setup linked at the top. Getting the right Pestilence of Dreeg might also be a grind (I managed on the first try on my legit version ) so you can replace with anything of value (I used Stone of Halakor before I crafted Pestilence, Eye of Beronath is also ok).

Most gear is pretty much standard. The weapon and the rings were chosen for raw stats and procs. These procs are very strong. Pants are arguable. Wendigomane Leggings are pretty good in the spot. Belt can be replaced by Chains of Anguish which I'm still using on my legit version (that's right, Anguish on hardcore, that's how unsinkable this is) because I haven't dropped the Stolen Dreams.
PLAY
Summary

Build takes optimizing your buttons and then some getting used to. It's important not to mash everything, especially Bloody Pox, CoF and Devouring Swarm - pressing each once is enough, and one Bloody Pox cast is sometimes enough for a whole wave. Once you get that, it's no longer such a piano. It's only got 3 casts you want as often as possible: totems and sigil. And Wendigo Totem has lots of spare uptime so you can also cast it sparingly if you're not mobile.
LEVELING
Summary

Matter of taste. I recommend looking out for a decent 2h (rifle or melee - both good) and going for lightning Primal Strike. Every level 1 point in Primal, 2 points in mastery and 1p essentials: PS line, Mogdrogen's Pact line, Howling Wind, Brute Force (only the first), Stormcaller. Once shaman is done with PS, HW and SP maxed, you can go for occultist and pick up Vulnerability, BoD line and Witchfire. Devos, take Ghoul and Revenant asap, then Hawk, Sailor, Eel, Viper, Kraken, Widow, Ultos, Spear. Leveling is super comfortable, and with that brought to 100 you can easily farm Dark One with faction gear.
THX FOR READING, ALL COMMENTS AND SUGGESTIONS WELCOME!