Is Bleed EoR viable now? Not quite.
I've been recently reading around the forums on Bleed builds since I've never played one, and the general consensus is: Bleed and Eye of Reckoning don't fit together. @Rhylthar also gave feedback about the Mythical Scion of Crimson wakes here: [Feedback] Some thoughts about Mythical Scion of Crimson Wakes, which I agree. I was really curious about how this weapon would work with the intended use of EoR, and this build came to life:
Grim Tools link v2 (current setup)
Pros:
You get to play the worst damage type for EoR
A whopping -125% total Bleed Resistance Reduction
You get to see 6-digit Bleed ticks (highest I've seen so far is around 500k on Valdaran in SR 65-66)
It looks cool
Cons:
You get to play the worst damage type for EoR
Very low health sustain even with 23% lifesteal (you rely on Wendigo Totem and health pots)
Really just a meme build imo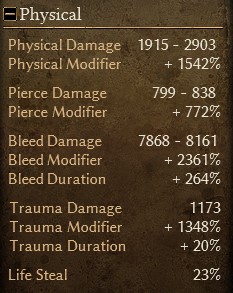 in-game stats, all toggle buffs and standing near Wendigo Totem
Devotions are taken from Boatman of Styx — Bleeding Warder, CR <6m [g3][sr+][c+][vid] with a change from Kraken to nodes in Berserker.
Performance:
vs Alkamos (high bleed res monster test)
vs Morgoneth
SR 65 Boss room
vs Lokarr
vs Mad Queen
Crucible Gladiator 150-170 (3 buffs + 1 Vanguard and 3 Storm banners)
Final Thoughts and Feedback:
I am really surprised that this build can even clear SR 65-66. As there is no armor/item set support for Bleed EoR, this is more of a proof-of-concept that it can be played, but not up to par with other EoR variants.