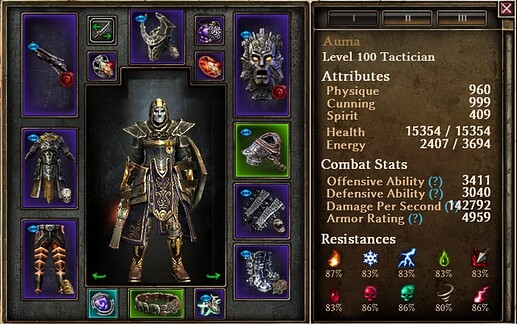 Stats w/all self-buffs incl. Overguard
Hi. I like tanky shield builds. And, I like guns. So, I made a tanky shield tactician with a gun.
There are faster ranged tacticians, but this one is especially built to push deep SR and lazily tank all other content.
Features

Pros


Not bad offensively and crazy defensively. The GT sheet is not quite accurate and does not show all the passive buffs from items correctly, but the build has 4.2k+ armor, 70% physical resist, and 200% attack speed
Excessive racial damage against Chthonians (+34%), cause f them in particular I guess
Can (probably) farm SR 75-76 blindfolded, and is capable of going into triple-digit SR
Kills all superbosses with no change in setup

Cons

No class RR for physical, you have to rely on items/devotions/conduit prefix
Gameplay

Gameplay is super simple: stand in Inquisitor Seal, tether things with Storm Box, and shoot. Use Overguard liberally- it is a netural/only slight DPS loss because of the gloves, and you'll get more Anvil procs from blocking. Because you are technically ranged, you have the luxury of kiting if you need to, though most of the time you want to facetank due to melee procs + shotgun.
Gear

Note: Helm was crafted for %armor

Weapon Slots - The real star of the show here is the shield, Mythical Watcher of Erulan. It gives loads of speed AND physical resistance when used with a gun. Said gun is the Mythical Havoc, which is just nice all around for tacticians.
Helm/Chest - Two-piece Octavius set is worn for stats as well as for elemental conversion. The build has an exactly 100% WPS pool with 3 WPS from inquisitor, so it's nice to supercharge those skills a little especially since you lose the x2 pierce conversion you'd get from dual-wielding Havocs. It converts the flat from Light of Empyrion/Mythical Combustion Band as well.
Gloves - Colossal Grasp gloves effectively nullify most of the damage penalty from Overguard's transmuter, and add more %phys res.
Pants - Points to Cadence and Bursting Round. And a visually stylish proc.
Relic - TBH I got bored of using Deathstalker on so many characters, so I decided to try one that gives +1 to Soldier skills. After buffs in 1.1.9.2, I found Oleron's Wrath to be a nice option here. I did dummy tests, and there is actually no significant DPS difference between optimized builds using either relic, assuming you can cap attack speed on other gear (which is not hard due to the Erulan shield). The additional AoE from the skill proc is cool, too.

Alternatives:
You can wear three-piece Octavius (adding the shoulder) for even crazier physical resist, but you will have to make up the skill points elsewhere to hardcap Cadence, e.g, by swapping the Combustion ring for a Mythical Goliath Ring or similar. The Warborn shoulder also works, but I like the armor bonus on Iron Maiden's Shoulderguard.
Performance

SR 100

SR 100 is a personal best for me so far on any toon - so, yey. It's pretty rippy even with "good" mutators, but I suppose that's SR 100 for you.

SR 75 with all bosses pulled for fun

Featuring: Fabius, Iron Maiden, The Messenger, and the Coliseum golem

Callagadra

Crate of Entertainment

Super sloppy kill, but you get the idea.

Ravager of Flesh

Mogdrogen
Ty for reading, comments welcome.