From a little spark may burst a flame.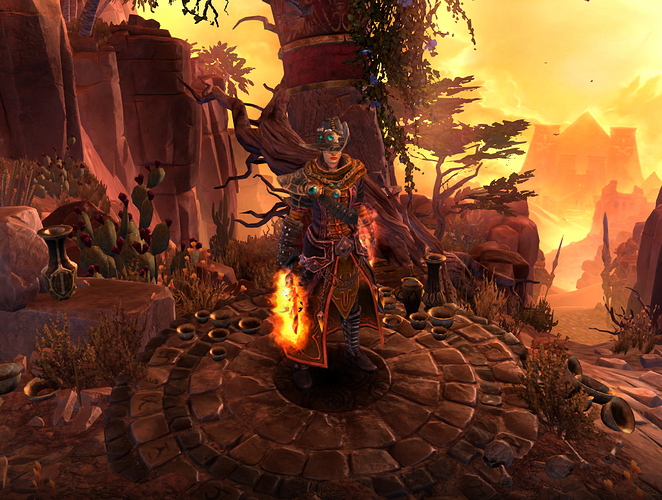 Hello, dear pyromaniac! Long story short. One day I was polishing Infernal Shieldbreaker with @mad_lee help (be sure to check his guide as well). Wasn't satisfied with the result and left it for the future. Last days I returned to the build while being more experienced player, and this Shieldbreaker now truly shines
1.1.8.1 Update: the Infernal Knight set went a log way last patches. Damage was nerfed severely, so I went for all-in fire devotion map and @mad_lee trick with Shard of Eternal Flame. Survivability is more or less good. Softcapped Ulzuin's Wraith helps, but the build is one of the most skill dependent. However, you might play with the old version for better tankiness
Grimtools (current version)
Grimtools (old version, also possible)
*Permabuffs + Ascension
Gear
All the gear used is kind the BiS, no need to change smth, though you may look at possible alternatives:
Note:
Until you don't use the same setup I provide with GT link, I'n not in charge of miscellaneous failures.
Until you don't use the same setup I provide with GT link, you prob need different augments/components.
Alternatives:
Weapon - Mythical Grim Fate, Blazeheart, Mythical Herald of Blazing Ends, Malmouth Flamecaster (faction);
Offhand is an absolutely must. I highly recommend to trade it on the forum. However, you may use Mythical Tome of the Arcane Wastes, Cyclone Effigy, Mythical Judgment of Empyrion, Malmouth Infernal Tome (faction), Bysmiel Veilfire Effigy (faction) or well rolled Zarthuzellan's Codex;
Amulet gives a hude boost to your survivability. Alternatives - Dreeg Arcane Pendant (faction), more defensive Malmouth Defender Pendant (faction), Blightlord's Vector, Shard of the Eternal Flame;
Rings don't have much alternatives unfortunately since two of them convert Bat devotion proc for more tankyness. You might try Blazeseer Signet;
Gloves - Mythical Embergrip Handguards(epic), Elite Harvest Grips (faction);
Boots - Mythical Wyrmscale Footguards, Mythical Footpads of the Grey Magi, Mythical Final March (epic). But, in the end, I highly recommend to craft Stoneplate Greaves as soon as stats aren't strickt, you need only to cover your res;
Medal is the BiS and faction, so no problem here;
Relic - Ulzuin's Pyroclasm, Annihilation or Serenity;
Pants is a heavy DA slot here. This ones are the best. Also you might try Mythical Arcane Harmony Leggings or Mythical Legplates of Valor (epic).
Gameplay
Aggressive caster. Follow your rotation and watch your positioning. The build is more or less skill dependent, so you might need some time to learn. A shit ton of DPS is kind a passive. Do not stay at one place. Active moves is a key to succes. Once you learn it, you'll be happy playing this build.
The most dangerous enemies:
Build's performance
Old vids:
Useful links