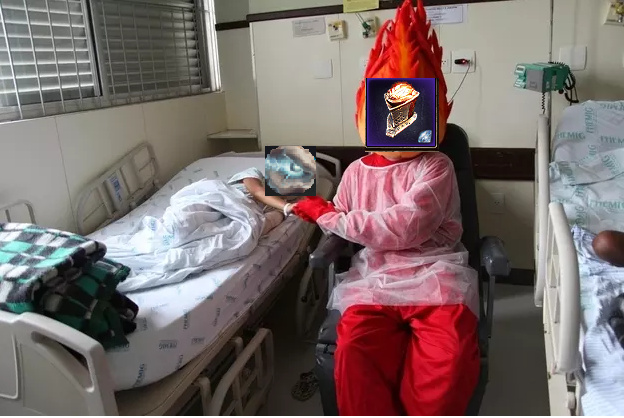 *Burn Ward welcoming all kinds of patients who got into a contact with super Hot Builds
Thanks to user @omnitrio
Foreword
This one was born when I was testing early versions of @dmt's Shieldbreaker (be sure to check it out if she decides to post it she has finally posted it). But I have changed the focus from Blackwater Cocktail to Thermite Mines, changed a lot of gear and devotion map so the build became kind of my own.
The Build
1.1.7.0 Update
Small update: changed one Bloodied Crystal to a Runebound Topaz. Fits this Stun resist starved build perfectly.
1.1.6.2 Update
@Dmt has posted her version of IK Shieldbreaker and I felt like I needed to upgrade mine. With the combo of Shard of Eternal Flame amulet and Mark of Divinity it has became both tankier and much more damaging.
1.1.6.0 Update
Reworked the build in 1.1.6.0. It's much more stable now and damage is the same.
*craft for Stun resist
Hot-burning Questions
Isn't Warpfire better?
Nope, Grim Fate is better on all fronts, especially when you focus on Thermite Mines.
How consistent is that build? It looks a bit glassy
It's pretty consistent once you learn how to pilot it and watch your fail-safes cooldowns. Less tanky than Purifier casters with Censure tho
Gear/Skills/Devotions
Core of the build is Infernal Knight set. However we are adding huge damage support in a form of steroided mines with increased radius. Rings are for OA and Bat conversion. You can choose to use or skip a skill from Korvaak's relic. Devotions include all Fire powerhouse constellations + Bat/Ghoul/Solemn Watcher for tankiness.
Gameplay
In Crucible burn everything. Reposition with Vire's Might and teleport rune often. On dangerous waves like 170 watch your Blast Shield/Prismatic Cooldowns. Once you procced Blast Shield and something else - stand your ground.
In Shattered Realm stick to 65-66. 75-76 is doable but expect to die few times.
Stats
General with Ascension up (up 65% of the time)
Magical with Ascension up
Defense with Ascension up
Videos
1.1.7.1 Crucible Gladiator 150-170 4:20 run
1.1.6.2 Crucible Gladiator 150-170 4:59m run
1.1.6.2 Crucible Gladiator 150-170 4:55 run
1.1.6.2 Crucible Gladiator 150-170 Slev1n's 4:55 run
1.1.6.2 Banana_peel's Crucible sub 5 minute run
1.1.6.2 SR 75-76 (9:37 run, 1 death, bad mutators and bosses)
1.1.6.2 SR 75-76 (few deaths, 10:41 run)
1.1.6.0 build version Crucible 150-170 5:23 run
Crucible 150-170 5:14 run - new devotion bindings
1.1.5.1 Crucible 150-170 5:13 run, 4+3 setup
1.1.5.1 Crucible 150-170 5:26 run, lucky double "armored" mutators"
1.1.5.1 Crucible 150-170 5:17 run, lucky "armored" mutator
SR 65-66 speedrun (good mutators)
Dying one thousand times at Shards 75-76
In Conclusion
This picture by @Kos9k