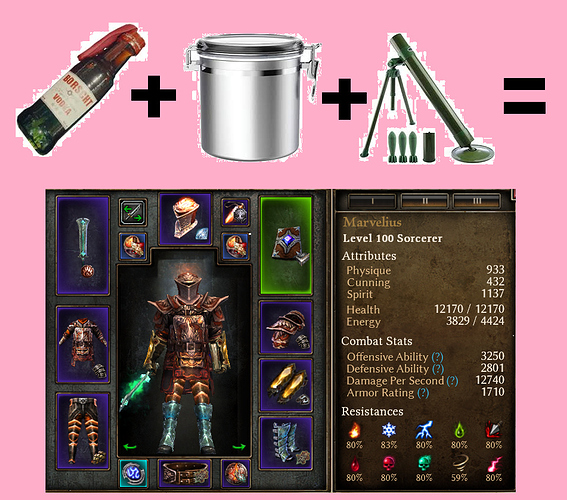 GT https://www.grimtools.com/calc/vNQa1ORN
(crafted w/ 2 x slow res and credits to @mad_lee for the Silvercore Bolts component)

Saves _Marvelius.zip (1.6 MB)
Cru 4+3 in 5:32 https://youtu.be/ICq3Wlu4s5M
SR80 no aggro abuse https://youtu.be/2imVi62WVuc (by no aggro abuse I mean failed aggro abuse)
Alternative devotions bindings https://www.grimtools.com/calc/r2B0vobZ (Wendigo, more dmg, better for Crucible)
INTRO
Welcome to the land of truly sorcerous shit. I have moiled over this build for days. The goal was to create the ultimate BwC sorc based on Infenal Knight set and a little something on top. I tried everything. First AAR in each and every way. CT, too. Then Mortars but with Pyre rings + Elemental Seekers. Then this one with dozens of gear and devo and component/augment and devo binding combos. Finally, I arrived at this gem - if I may say so - of the noble art of GD buildcrafting. Some may say I ripped it from Nery but NO 1) I never saw it 2) this one's DIFFERENT! 3) I saw it long ago

BUILD
The offense is obvious - 3 demo mains (or 4 if to include Mines) with all the support that could be mustered as well arcanist oa and cdr. Defense is more interesting - beside the standard Blast Shield + Mirror and Maiven, we have double Blazeseer rings with up to 60% vitality to fire conversion paired with Bat and Scales. Sadly, this caused quite a low global %fire/burn and quite a low for a sorc crit dmg but the sheer number and intensity of skills more than make up for it. Also, Mortars force to drop the standard sorc combo of Eternity relic and Aldanar's Vanity offhand which affects the Blast Shield+Mirror playstyle.
Build can both facetank just about everything in Crucible (with the right handling of Blast Shield + Mirror) and kite with little dps loss against SR monstrosities. I haven't tried Celestials but there would have to be a serious shuffling of resistances involved. However, with some pharma and lots of kiting, why not, can do.
LEVELING MINIGUIDE
Start with demolitionist and grab Blackwater Cocktail. Pump one point in it and 2 in mastery every level. Grab the first off-hand available and put first a Searing Ember and then Flintcore Bolts component on it. The granted skill of Fireblast/Greater Fireblast will work better than softcapped Firestrike at this point. Together with BwC, it will carry you long way. You can use Conflagration relic with it's mini fire AAR if you have it. Use Seal of Destruction with Stormfire as soon as you can. You can use some Flashbang to fix holes in oa and get another layer of defense.

Grab 1 point in Flame Touched, Vindictive line, some Blast Shield if you don't wanna die, and once you get to Mines and Agonizing Flames, pump them to the max like BwC. Dont bother with arcanist side until you did that. Then move to arcanist and grab everything as is, 1p in skill, 2p in mastery.

Devos, either get Bat first and then Ghoul or get Eel and Sailor for an early boost in run speed. Don't bother with Scales until you get double Blezeseer rings with good conversion rolls. Follow the path to Torch. Best take devotions with procs first so that they start leveling asap.

On gear prioritize resistances and %fire dmg.

Don't bother with Mortars until you get the off-hand, the gloves and the medal. BwC and Canister alone are plenty strong for Gladiator 120~ and SR 50-65 even with ragtag faction gear and random drops. Here's an example of an half-assed sorc from my start-from-scratch corner https://www.grimtools.com/calc/RVvBmLvV and it works just fine for SR70.

In endgame prioritize rolls on cooldown reduction, conversion and phys res. NOTE: Unless you got good enough rolls on cdr do not bind BwC to Fissure from Magi devotion. It needs to be at 1s cooldown. If it's not, you're not gonna get many Fissures anyway so better use BwC (it has increased proc chance) for something else.
thx for reading and all questions/comments welcome