INTRODUCTION
I have decided to add another damage type of Primal Strike to my collection. This time chaos Primal Strike. Because of chaos damage support I chose Conjurer. For chaos RR I took the Rah'Zin's set as the core of the build with Wrath of Tenebris as a weapon. For bonuses to Primal Strike I have chosen the Rylok Mark medal which has conversion of lightning damage to vitality. PS thus has major chaos damage and minor vitality damage but that is OK here because the build has % damage to both and some RR for vitality as well. Any other medal I tried gives significantly less DPS (20 - 30k less). And you also get nice red look for PS with this medal. Physical damage on PS is converted to chaos. Lightning damage on Torrent is converted with partial global conversion to chaos. DPS is up to 250k with chaos RR of up to -123 %. So offensively build is fine. It can do SR 65-66 comfortably but it struggles in high SR. It becomes squishy there just like Rotgheist PS builds even though it has good defensive stats and great lifeleech. You will have to use energy potions from time to time (especially in boss rooms) but that is a problem of Occultist class in general from my observation. This build should be comparable to my aether PS Druid. And yet again when having similar aether and chaos builds the chaos one is weaker.
I have other Primal Strike builds here. I have other chaos melee builds here. All my builds are here.
Here is a list comparing all my Primal Strike builds from best to worst. All are at least SR 65-66 capable.
GRIMTOOLS https://www.grimtools.com/calc/aZqxgDpV
Bonus ranged version for SR 65-66 is here. It is squishier and has weaker energy regen.
Build uses two monster infrequent items – Rylok Mark and Dreeg-Sect Legguards. You want affixes for Primal Strike, chaos damage and OA, DA. Crafting bonus on the chest is to freeze resistance.
Stats of the build

OFFENSE

high DPS from 160k to 250k

high base weapon damage

OK attack speed 173 % (183 % with Hungering Void)

OK critical damage - 23 % (41 % with Hungering Void)

OK OA - base around 2900 OA

up to225 DA reduction to enemies from Annihilation and Rylok Wings

good chaos resistance reduction - from Curse of Frailty, both Rings, Eldritch Fire, Solalel's Flame, Ravager's Deathgaze and Doom Bolt - up to -123 %

damage from devotions - Eldritch Fire

DEFENSE

OK life around 16000 HP

OK base DA around 2900 DA

up to 225 OA reduction to enemies from Annihilation and Rylok Wings

great lifesteal 31 % (with Wendigo totem)

good CC resistances

reasonably overcapped resistances

low armor - above 1700

OK physical resistance 31 %

% damage absorption from Possession

Bat + Ghoul

Serenity

Prismatic Rage from component
image from the game with passive buffs only
image from the game with passive buffs + Blood Pact, Abominable Might and Hungering Void
image for Primal Strike damage with all buffs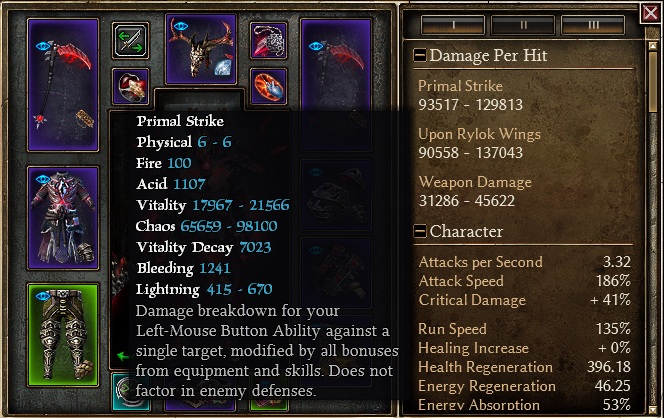 SR, CRUCIBLE
I play SR with camera pointed away from enemies and I try my builds only in SR 65-66 and SR 80. I play around 10 SR runs per character.
This build does SR 65-66 relatively easily. No boss is a problem. Energy regeneration in boss rooms is weak (have some potions). It can't do SR 80. It is too squishy in it.
I don't play Crucible so I don't have a time number for it.
Image from SR 66