Chaos Hybrid Pet Cabalist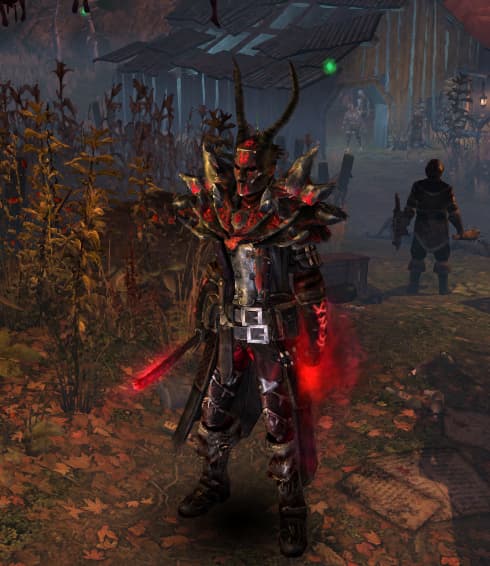 ---
Hybrid pets: The holy grail of hipster builds. It's not the first time I've tried, but it's the most successful. Plus, playing artillery mage while hiding behind your pets is actually kind of fun. Please enjoy this Cult of Ch'thon-themed chaos caster Cabalist, featuring the Oblivion relic skill, multiple kinds of exploding pets, and just generally a very satisfying evil void mage aesthetic.
Tragically (for my hipster cred, at least), a pretty similar build concept was already done by thepowerofmediocrity a few months back. Hat tip for having my best ideas before I did!
I'm counting this build as sufficiently different to be worth posting:
Adding a spammable skill like Oblivion significantly increases how much it feels like a hybrid build (as opposed to a pet build that incidentally does a lot of damage when it casts Reap Spirit).

This is especially true against packs (or bosses that summon lots of weak adds), where getting lots of kills yourself results in ridiculous numbers of exploding devourers (Mythical Black Scourge doesn't have a cooldown).

I like the 3/4 Ghol's set and would be sad without my spider friends.
I've focused more on converting all my damage into chaos (mostly by using Darkblaze Source to convert the acid damage on Blight Fiends and Ghols' spiders, but also via the alternate belt choice).
---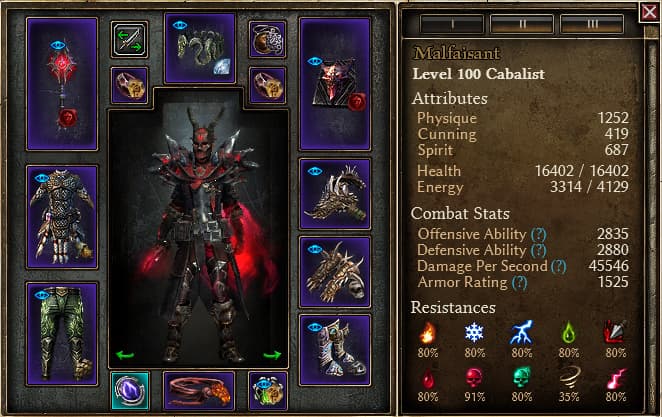 Stats with Blood of Dreeg & Hellfire, but no temp buffs. Tooltip DPS is Oblivion.
---
---
This is an endgame build, not intended to be played in this form until level 94+
I leveled this build as fire-based pets (focused on skeletons + hellhound), using Korvaak's Burning-Blade, Black Grimoire of Og'Napesh, Zaria's Pendant, Halion's Crest, and Spectral Crown, with the rest of the gear used to fill in generic stats. I like this setup because fire-based pets can use the build's endgame devotions without modification, so you don't have to respec at 94 and level any devotions from scratch.
If you like video guides, RektByProtoss leveled a fire pet Cabalist last year, and published a build overview video and the VoDs of his leveling, which you might find helpful.
If that isn't your cup of tea, you can level this using any decent Cabalist leveling build. You can find great tips for leveling pet builds in Maya's guide to pets, or skip pets entirely until endgame and level using something like the Cabalist variant of this vitality RE build by Nery.
For general leveling advice, check out these resources:
---
Thanks for reading; happy void-calling!