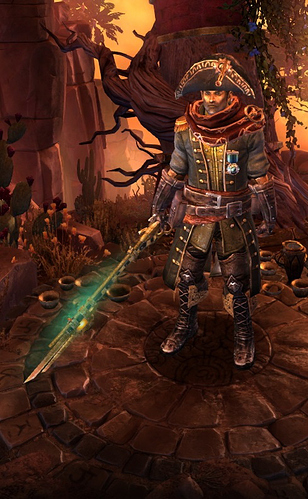 5th May 2020
Update 1: Updated for new 1.1.6.2 patch. Omitting Abominable Might, streamlining the skills, getting 22/12 brimstone, some spirit dump.
The Build


https://www.grimtools.com/calc/dVbaP7k2
With all permanent buff + Word of Renewal, Deadly Aim, Fire n Brimstone, and sitting on Inquisitor Seal.
DPS shown is Fire Strike.
Build Feature

Upside:

11 sec dummy
Ranged gameplay

Downside:

Dunno…
Build Overview

Desolator got buffed in 1.1.4.2 making it full fire and a penetrating gun. Its offensive capability need not to be questioned again. This build bringing the ranged fire strike to the max with all the shotgun and barrage wps, synergize well with fire strike mechanics. Dagallon helm is used to convert the chaos to usable damage, and 3 piece justicar is used for tankiness.

1.1.6.2 Update: Itemization is adjusted to have 22/12 brimstone. It seems Dagallon helm + Tainted Ruby of Gar'dal + non Mythical Blood Sigil of Ch'thon are BiS for most fire Fire strike build.
Equipment Choices

Craft all equipment at Egellon slow res. Aim for at least additional 10% for each piece.

Core Items:

Justicar Guard Set Except Helm. [Super tankiness, huge flat fire]
Helm: Dagallon's faceguard. [Build defining item, converting chaos in fire strike to fire & lightning]
Main & Off Hand: The Desolator. [build defining item, penetrating fire gun with huge flat, good stats, and relevant skill mod]
Rings: 2x Mythical Jaxxon's Lucky Bullet. [Ranged fire strike need this to take it to next level]
Amulet: Mythical Tainted Ruby of Gar'Dal. [Relavant skill bonus and huge bonus to brimstone]
Medal: Non Mythical Blood Sigil of Ch'Thon. [Relevant skill bonus, good proc]

Supporting Items:

Pants: Mythical Chausses of Barbaros. [Still the best overall pants for auto-attacker, attack speed is vital]
Boots: Mythical Wyrmscale Footguards. [Good stats, good res, relevant +skills.]
Belt: Mythical Scales of Beronath. [Good res, bonus armor,reduce physique requirement for armor, plus to inquisitor, +Crit damage, and good stats overall]
Relic: Annihilation. [Vital bonus to AS, +1 Demo, and nice proc. Get +1 brimstone for completion bonus]
Movement Rune: Use whatever you like. I use rune of Violent Delights at the moment.
Devotions

Two-Handed Ranged Devo

Fissure > to Thermite Mine
Meteor Shower > to Inquisitor Seal
Eldritch Fire > to Fire Strike
Raise the Dead > to Storm Spread
Ghoulish Hunger> to Whatever permanent buff
Gameplay

Keybind:
LMB: Fire Strike
RMB: Point to Move
Scroll Up/Down: Flashbang
Keyboard 1: Movement Rune
Keyboard 2: Inquisitor Seal
Keyboard 3: Thermite Mine
Keyboard 4: Word of Renewal

Standard procedure:
Cast Word of renewal, ensure it to be always active or save it for heal
Movement rune in.
Cast Thermite mine to the enemy location
Cast inquisitor seal below you.
Then purifiy your enemy by holding your left mouse button

Cast Flashbang If facing nemeses or dangerous bosses, or if surrounded by multiple enemies.

Take caution of your positioning, you need all of your enemies to be in front of you. This is also vital in bosses/nemesis wave.
Build Performance

Crucible:

New 1.1.6.0 video with 3 buff, 3 L1 storm beacon, and 1 L2 storm beacon:



5:10 clear time
Current fastest, slowest is 5:40. Depend a lot in your positioning.

Shattered Realm:
Haven't check. Should be good though.
Enjoy…