INTRODUCTION
Hello everyone, since AAR is still strong after the nerfs, I decided to revisit one of my older builds, which is Chaos Ray Warlock. After some tuning, the build turnt out better than I expected, so here it is.
GRIMTOOLS
craft for stun res
Generic well all around Version
Slightly altered with less DA, but more damage
Tankier Version with Hourglass ( use Ravager's Eye augments for Callagadra)
Glassified Crucible Version
You need DA and Stun reduction on the pants, if you don't have a good one use Demonbone Legplates as a place holder. Rest of the gear is BiS
DPS WITH PERMANENT BUFFS


DPS WITH ALL PROCS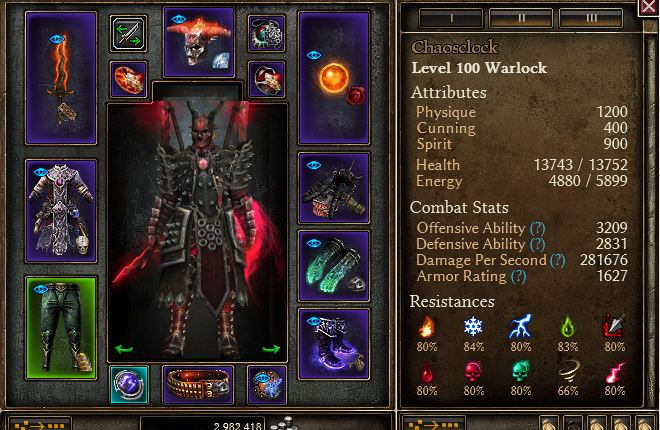 GAMEPLAY
Pretty simple, you kill trash mobs with AAR and Sigils and cast Ritual circles/Doom bolt/Devastation against bosses.

VIDEOS
SR 100 Bosses:

4:48 Crucible run:
Crate of Entertainment kill:
SR 80 Bosses:
https://youtu.be/IH8easDHX5g
SR 90 Bosses with Aeon spec:
https://youtu.be/4tadLcYqyeU
5:01 Crucible run:
https://youtu.be/5Wt73cn_CxQ
5:13 Crucible with Glassified spec:
https://youtu.be/9aI8muIUBcY
5:51 Crucible with a Mixed version:
https://youtu.be/hZwhuItTu_0
Callagadra with Aeon spec and pharma:
https://youtu.be/HBNEnyxXHEY
Ravager of Minds with pharma:
https://youtu.be/F8vMrcetUn0

Conclusion
All in all, this build can dish out a good amount of damage, even the non glassified versions can. Still one of my favourite AAR builds. Credits to @Nery, @Willnoword, @KoS9K, @Duchy for their versions (sorry if I missed anyone) and to @mad_lee for suggesting different components/augments and skill point allocation. See you next decade.