INTRODUCTION
The reason behind this build is to use Stormrend axe from totems + shield for Primal Strike. This time I chose to use Blitz with it and therefore used a Warder. Primal Strike hits hard even with one weapon, added to that we have two movement skills - Blitz and Masterful Rahn's Might - with which you can avoid getting hit if needed. You can facetank most of the single boss enemies even in SR 65-66.
I have other Primal Strike builds here. I have other shield builds here. I have other lightning melee builds here. All my builds are here.
Here is a list comparing all my Primal Strike builds from best to worst. All are at least SR 65-66 capable.
GRIMTOOLS https://www.grimtools.com/calc/m23bpM7N
Crafting bonuses on helm and medal are to stun resistance. To address the coming questions - component on the belt is chosen for OA.
Stats of the build

OFFENSE

nice DPS for one handed weapon + shield - around 160k DPS

high crit damage 68 %

high OA - base above 3100 OA and with Fighting Spirit above 3400 OA

325 DA reduction to enemies from component and Blitz

OK resistance reduction from Wind Devils, Revenant, Viper and Widow

damage from devotions - Spear of the Heavens, Widow and Revenant

DEFENSE

nice life around 14000 HP

nice DA - above 2900 DA

150 OA reduction to enemies from component and Arcane Bomb

nice lifesteal 19 % (with Wendigo Totem)

with good movement you can reduce getting hit if necessary but you can facetank easily most of the time

high important CC resistances except trap (not that useful anyway, Benny is easy)

reasonably overcapped resistances

nice physical resistance 25 %

nice armor - around 2400

% damage reduction to enemies and disrupt their skills from War Cry (with good CDR almost always up)

Ghoul

Prismatic Rage from component

blocks from shield
image from the game with passive buffs only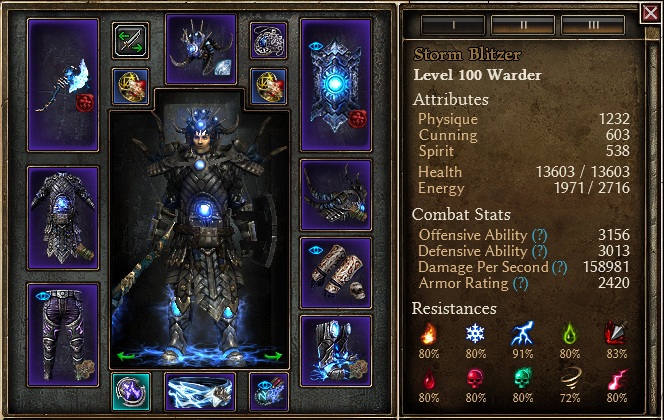 image from the game with passive buffs + Fighting Spirit
SR, CRUCIBLE
I play SR with camera pointed away from enemies and I try my builds only in SR 65-66 and SR 80. I play around 10 SR runs per character.
This build does SR 65-66 relatively easily. It doesn't even have any great problems with Grava which melee lightning builds usually do. I tried SR 80 with and it is too glassy for it.
I don't play Crucible so I don't have a time number for it.
Image from SR 66