INTRODUCTION
The reason behind this build is to use conversion on Avenger's Crusher to fully convert lightning damage on Primal Strike to physical damage. For physical damage support and general tankiness I have chosen Soldier as the second class. Because of bonuses to both classes and tankiness I have chosen the SR set as the core of the build. Build has few active skills and is very easy to play. Build is also very tanky. Wendigo Totem gives us healing of 6 % + 740 HP every half second. That means healing around 4200 HP/s and build also has great lifesteal. It is practically impossible to kill it in SR 80. SR 80 is a complete joke for this character.
I have other Primal Strike builds here. I have other physical melee builds here. All my builds are here.
Here is a list comparing all my Primal Strike builds from best to worst. All are at least SR 65-66 capable.
GRIMTOOLS https://www.grimtools.com/calc/b28b8JpZ
Crafting bonus on boots is to slow resistance.
Stats of the build

OFFENSE

nice DPS from 200k to 280k

OK base OA - above 2950 OA, high OA when Fighting Spirit is up (around 3250 OA)

55 DA reduction to enemies from Annihilation

low crit damage - 26 %

OK physical RR from War Cry (and Scales for more consistency) + Assassin's Mark - up to -65 %

DEFENSE

huge life (you don't have to worry to take some damage) - close to 23 000 health

good base DA - around 2950 DA

up to 195 OA reduction to enemies from Annihilation and Shifting Sands

lifesteal is 23 % (with Wendigo Totem)

maxed resistances with reasonably decent overcap

+3 to max all resistances

high CC resistances

nice physical resistance 27 %

high armor above 3000

healing from Scales and Wendigo Totem

% damage reduction from War Cry

Ghoul

Prismatic Rage from component

Menhir's Will
image from the game with passive buffs only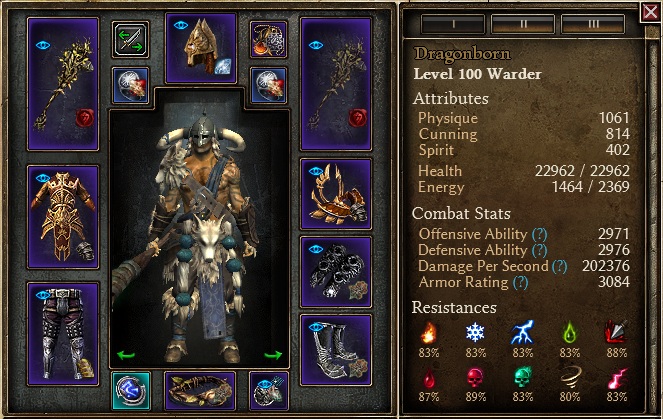 image from the game with passive buffs + Fighting Spirit, Battle Cry, Ulzaad's Decree, Blood Pact and Windshear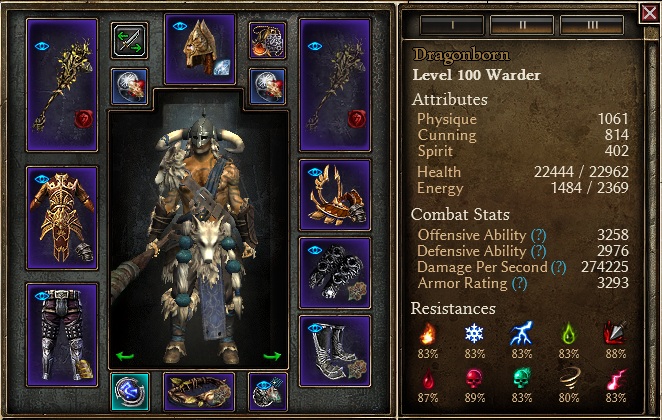 SR, CRUCIBLE
I play SR with camera pointed away from enemies and I try my builds only in SR 65-66 and SR 80. I play around 10 SR runs per character.
This build does SR 80 very easily. In fact it is a complete joke. I don't push my characters higher but it can go a lot higher if you are a skilled player. In SR I use as a movement skill Wendigo Rush.
I don't play Crucible so I don't have a time number for it.
Images from SR 80