Quick 1.1.4.2 [Hotfix] Update
The build received a few more nerfs, but is definitely still going strong (6:30 Crucible and below).
Due to the loss of some %WD & Ascension uptime (Conduit got hit pretty badly) I strongly recommend to switch Seal of Blades weapon component back to Haunted Steel now (if you haven't done so already) +adjust armor augments to get pierce res back to 80%+; its Bloodthirster ability is a great way to survive those 4-5 seconds during which Ascension is down.
---
My first proper build post! Yay!
…which I basically just adapted from x1x1x1x2's ThermoElectrician Sorcerer. So… thank you, x1, for your last & great parting gift – and sorry for stealing it so shamelessly
Indra, God of Thunder
Preface
I actually wanted to play a Cyclone SB since the release of FG and even leveled one as my first character in the expansion; but even with a first batch of Demo buffs already on the way, she never held a candle to her mad Archon brothers. Until now, that is:
Grimtools links
(1) [1.1.4.1] Recommended defensive setup: https://www.grimtools.com/calc/4ZD6pAa2
(2) [1.1.4.1] More agressive version: https://www.grimtools.com/calc/lNk80nd2
(3) [1.1.4.0] Outdated original build: https://www.grimtools.com/calc/eVLpy45V
For 1.1.4.2 it is advised to change your weapon component to Haunted Steel & adjust armor augments to get back the lost pierce res (i.e. like this: https://www.grimtools.com/calc/m2335b42).
Use 'Bloodthirster' to survive increased Ascension downtime more easily.
Videos – Crucible
(1) [1.1.4.1] https://youtu.be/I15ZLC9wKXw (5:40; done with the aggressive crucible version)
(2) [1.1.4.0] https://youtu.be/rb1r_c94BxY (5:34)
(3) [1.1.4.0] https://www.youtube.com/watch?v=LIPXUZrdOzg (5:21) (no audio)
Videos – SR:
(1) [1.1.4.0] https://youtu.be/Nio2Yq8Qy8Q (75-76 in 8:22)
This SR clear time is pretty crazy; my playstyle in the video is as well, though. I played so recklessly I should have died like three different times (e.g. When facetanking Zantarin's shotgun blast point blank lol). I also got very lucky with my shard rolls.
But if you play a little more safely, the build can farm SR 76 pretty consistently in ~10-12 mins.
In-game stats (with all buffs & Ascension up):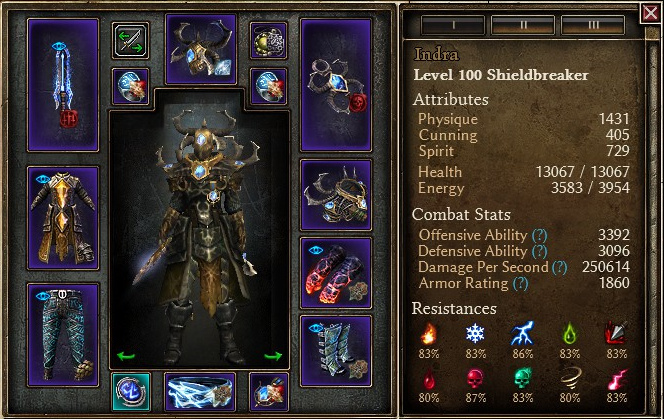 Pros/Cons
Pros:
+crazy AoE
+great single-target dps
+awesome survivability with EoR & AdctH, perma Ascension, Blast Shield & Bloodthirster
Cons:
-none so far. The build will definitely get nerfed though, so this might change.
Gameplay
Activate Ascension (~1.5 sec downtime with Aeon), then 1x mines, BWC & Canister Bomb (it is important to throw the latter last due to Aeon!), Aether Corruption, then channel EoR. Keep BWC and Canister Bomb on Cooldown. 3x mines for bosses; Bloodthirster (if Haunted Steel is used) mostly for 160/170.
Be a little more conservative with Canister Bomb when appropriate to ensure Aeon hits Ascension (e.g. When Ascension is almost back up).
Gear choices, Skills, Devotions & stuff
x1's fully converted Thermite & Canister Bomb setup for damage. EoR for the meme power.
Belt for full aether>lightning conversion,

boots for +to mines & everything else they have now (damn those things became good).
Amulet for nigh-perma Ascension, resists & some attack speed for EoR.
note on crafting the Conduit (click me)

crafting Conduits for the right combination of affixes can be a pain in the a**; but whilst the prefix is mandatory, pierce/aehter res suffixes can be just as good as the poison one if you change your armor augments (with aether you might have to change the chest component to living armor or sth. though).
Pants for DA, DA and… Skill disruption protection.

Relic for %atk speed and because this build is starving on skill points.

x1's devotion setup, updated with the changes from ya1 & Shoot2033, because those dudes have mad skillz.
Comparison to the 'source build' (i.e. The ThermoElectritian)
One has more %CD, one has EoR.
But honestly, I have no idea how x1's & my own crucible speedrunning skills match up, so this might be better – or it might be worse. Either way, this one has Cyclone in it. And I like that.
What changed with version 1.1.4.1?
Click me if curious

Gear:

Mythical Legplates of Valor > Mythical Arcane Harmony Leggings

Runebound Topaz component (rings) & Tainted Heart (Medal) > Bloodied Crystal

Since the Crystals got buffed in the Hotfix, this option gives us more damage, more DA and some very useful Skill Disruption Protection in exchange for a little bit of life.

Haunted Steel > Seal of Blades: due to a more refined devotion setup, we can sacrifice a little bit of AdctH for more armor, resists & DA

Changed some Augments to optimise resists & stuff; swapped Movement Rune to Rahn's for more DoT.

Skills:

Moved points from Improve Casing to Blackwater Cocktail and Blast Shield for better damage returns & defense.

Devotions:

Exchanged Hound, Scholar's Light and Fiend for Imp & Bat (conservative setup). Imp gives the damage, Bat survivability.
Possible changes for even more survivability in SR:
Click me if frustrated

you can try to use the conservative setup provided in the GT but also swap Seal of Blades for Haunted Steel (again, make sure your augments max your resists if you do this!). Then try to activate Bloodthirster whenever Ascension is about to go out.
HOWEVER, a more careful playstile always trumps slight build changes like this when it comes to survival! Try to never fight more than one boss at a time; always keep on the move to avoid ground effects (moving in circles around an enemy is a good option most of the time) and try not to spam your Mines, BWC & Canister all at once (whilst it ensures more dmg is dealt, EoR is your main heal and might be disrupted by this for too long).
Credits to
x1x1x1x2, again. Without you, trying this particular setup would have never even crossed my mind.
x1 & mad_lee for their feedback.
Feedback
…is always welcome.