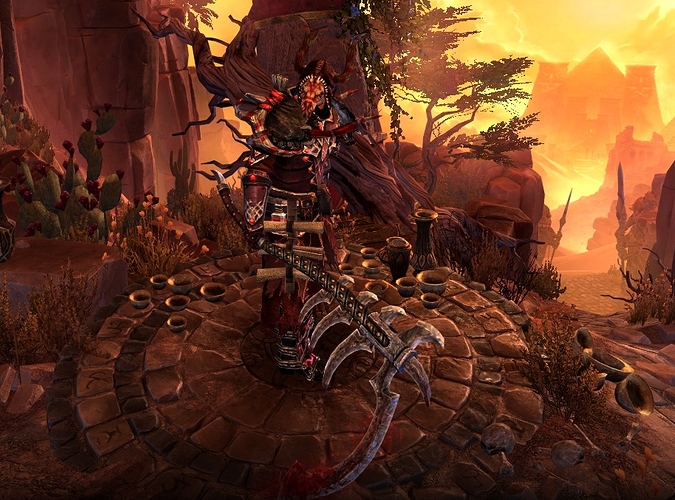 Introduction
:
Here is a caster that can leech/heal through just about anything. Main thing to worry about is casting grasping vines on cooldown since the effect stacks. Bloody pox with wendigo bound, devouring swarm to revenant, and maxed grasping vines bound with ratosh will provide tons of healing. Savagery is used to stack the buff when you aren't kiting. Wendigo totem is used for even more heal and to supplement our bleeding/vit decay damage. Huge amounts of slow/trap means even bosses can be effected by it, which makes kiting a breeze.
Now that the amulet isnt a conduit gearing is a bit less troublesome… thunder struck cronleys signet is BiS for 2nd ring, with some form of Defensive ability on the suffix. Mythical Deathlord's Band is the best filler until you can get a good signet. Tbh the lack of stun resist wont stop you from clearing, it just feels safer in SR.
You want agrim armor crafting bonus on your helm and amulet. (or stun res if you really would like it) Relic is now swapped to solael's decimation for more oa.
The Build
New 1.1.2.0 update: https://www.grimtools.com/calc/r2BYRMBN
updated build includes higher armor, higher phys resist, better speed, better damage, a better devotion path now that we dont need manitcore, more oa, more crit damage, fumble and health degen from the medal. Solid increases in overall performance. Ive cleared to 87 with an older version before I crashed… so I imagine this one could do so as well with better results
New vines FX + bloodspouts are great :D:D
Version in the new crucible video: https://www.grimtools.com/calc/q2Mnrl0V (removed storm totem)
Video
The build is very consistent even with zero stun resist. I've yet to die in crucible with it. I've taken down just about every boss combo including double reaper without any problems.

Boss stages at 4:04, 8:40, 15:19. second boss stage you can see probably the biggest threat to the build in sr… Mad Queen. Grasping vines stacks make her retal aura go absolutely insane.
OUTDATED
Crucible original setup-
7:37 minus like 10 seconds where i alt tab to skip an ad on my music lol… then more can be subtracted with a better comp probably.
Crucible original +manicore setup
170 = double reaper, maiden, fabius.
OUTDATED
Original build : https://www.grimtools.com/calc/xZy4l5kV
Updated with manticore : https://www.grimtools.com/calc/gZwv8ObV features even more kill speed, slightly less safe… but its pretty close. Worth the trade imo if you arent playing HC
Thanks to Mercymaker for the following (old build with manticore)