Introduction
Oppressor (Necromancer, Oathkeeper) is a class that in the Build Compendium X (Forgotten Gods) - #3 by Stupid_Dragon is often associated with vitality or aether damage. As physical damage dealer - while both masteries provide physical resist reduction - Oppressors are often in the shadow of Warlords or Death Knights. In the old time (means around 1.1.7.2), however, Oppressor also had its spotlight and had one of the fasted melee dual wield physical damage builds - using the "converted physical damage ignores armor" feature to increase the damage (see madromans physical Righteous Fervor build listed here: GrimSheet: Endgame Build Table - ETE edition [v1.41]).
The "converted physical damage ignores armor" is long gone - and now converted physical damage has to pass armor before inflicting damage. However, the effect of reduced physical resistance is applied before the armor check happens, which means that almost always the damage is increased before the armor check happens (this can also be seens as armor reduction). For a budget build, the double physical resist reduction - both passive - Oppressor offers together with Assassin's Mark and Tip the Scales can provide easy to reach -102% physical resistance. And this feature is the core idea behind the build.
Another Oppressor levelling guide centered around Ravenous Earth can be found in the Beginner build guides Compendium (for AoM + FG expansions)
One Slicer is never enough
Going the Oppressor physical damage route, an easy budget build idea would focus around the Myrmidon Bastion set. Using the full set would lead automatically to a S&B Oppressor, e.g. focussing on Righteous Fervor with a strong WPS focus. However, after some S&B builds levelled, I decided to follow madromans lead and made a melee dual wield budget build (surely @thepowerofmediocrity post [Happy New Year! Let's Talk V1.1.9.5/6 - #21 by thepowerofmediocrity] is not to blame
). The build centers around the Blade(sworn/dancer's/master's) Talisman relics which provide the ability to dual wield melee weapons. Each of the relics also provide a nice to have WPS. Together with the Oppressor WPS, it is rather easy to reach 100% WPS at the end. The Bladesworn Talisman blueprint can be bought from Devil's Crossing faction vendor and is therefore guaranteed rather early. The second core item are Sandclaw Slicer with its boni to Presence of Virtue. They are also relatively easy to farm. After finishing the first act of the main campaign (killing Warden Krieg), the second expansion map can be entered and already in the first area Sandclaw Slicers can drop.
The character was really satisfying and fun to level after the main feature (melee dual wield) of the character idea could be used (means: around level 35). One issue is the low health regen, which makes constant attacking and reasonable Attack damage converted to health values rather important. This led to the rather strong focus on high armor value and devotions which increase the Defensive Ability (DA). However, ground effects and damage over time are always a potential threat - especially if there is no enemy to kill left (e.g. damage over time led to one death in the Shattered Realm 65 against Kaisan - death came after he was already death).
Another issue is the lack of real area of effect (AoE) attacks. With fully developed WPS, around 50% of all attacks are multitarget in the end, but against large group of small enemies, it would nevertheless take some time to kill them all. Therefore, devotions were also selected for their AoE damage procs, which lead here to Dire Bear (Maul) and Vire, the Stone Matron (Fist of Vire). Fist of Vire is activated on hit and Maul is binded to Righteous Fervor to have it proc as often as possible. Early, Bull Rush was used to have AoE damage as early as possible, but the proc is rather weak and requires an attack to proc. Therefore, the moment Maul becomes available, there is absolutely no justification to use Bull Rush even for one additional second.
The binding of Maul also made it necessary to bind Assassin's Mark to another skill. The reasoning is rather easy, while not having Assassin's Mark active is a rather strong damage loss (~20%), most enemies in the campaign die after one or two hits, before Assassin's Mark is even espected to proc. To have a still acceptable proc chance when necessary, the Offensive Ability (OA) should be rather high and the enemy Defensive Ability should be lower, For the former, I had luck with gear (another option would be Clarity of Purpose for a temporary boost - but as the DA is more or less already covered by the devotions, the gear can have a rather strong OA focus), for the latter the Oathkeeper mastery has Judgment with Crushing Verdict. Another option would be to rebind before starting harder fights and individual foes.
With these steps, the character was solid and felt not weak at all. The area of effect damage is more than sufficient. Most of the time, there was also no real threat to die in Elite and Ultimate. Well, and I surely should have checked my devotion binding before stress testing the final build, as Assassin's Mark was likely not binded at all in the Shattered Realm and Crucible …
Self Found?
Only self-found equipment and self-found crafting materials were used while levelling. Also, no mandates were transferred, writs were bought as soon as possible. However, all necessary blueprints were already found with earlier characters. The character was played solely in 1.1.9.4.
Current Character
Grimtools of the current character. 33 attribute points were invested in Physique to match the gear requirement (and increase the Defensive Ability), the rest went into Cunning for the increased damage and Offensive Ability.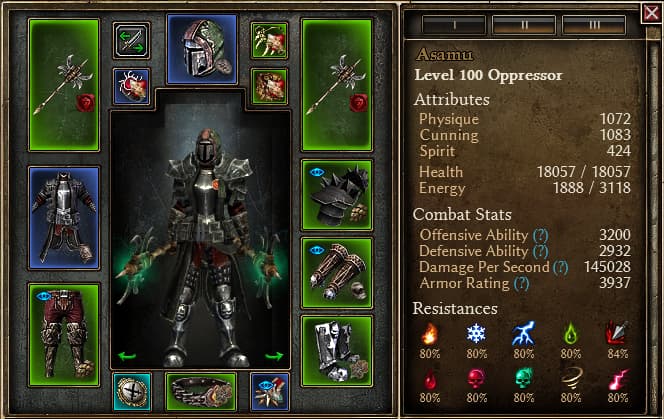 [Righteous Fervor, all permanent buffs]
Using different components and nacked gear, it is already possible to cap all resistances skeleton character (= without affixes), however, OA and resistance overcap is rather low, so the gear must mainly support this aspects. Attribute points are therefore also invested slightly differently to match the requirements of the gear.
Performance

The full campaign (softcore) with both expansions was finished in all three difficulties (Veteran, Elite, Ultimate). Monster totems were activated on sight - after cleaning the surrounding area. Some deaths happened rather early (3 x Veteran) before the character idea could be fully developed, no deaths followed in Elite and Ultimate campaign and the character felt extremely solid. The other three deaths so far happened while testing the character in Ultimate after finishing the campaigns (Shattered Realm 65, Clones and Crucible 161).

All challenge dungeons were finished in Ultimate, most of them relatively painless - only for Morgoneth an Aether Cluster was used. Shard 65/66 was tested and can be finished - one unnecessary death however occurred (the way from shard 1 to 65 was not tested - a waystone was used as shortcut to shard 65). Gladiator Crucible was tested and it was possible to reach level 161 in the first run (in a four blessing, three banners setting at the end). The following nemesis were slain in Ultimate: Moosilauke, Kubacabra, Valdaran, Benn'Jahr, Grava'Thul and Kaisan. Clones can be killed (here: with one death), Lokarr is also possible (here: without death, required however disengagement from time to time to wait for cooldowns)

And don't forget to check [1.1.9.4] Budget Physical Melee Dual-Wield Righteous Fervor Oppressor - #4 by tqFan for a Ravager kill in Ultimate by @tqFan
Levelling / Skills

The character starts as Oathkeeper. As the relic to dual wield melee weapons will not be available for some time and both masteries don't provide the ability, the early phase needs another focus. For this character, it was the S&B side strongly supported by the Oathkeeper mastery. Therefore, after investing one point in the Oathkeeper mastery bar, the following skill points are invested into Safeguard until maxed. Safeguard provides flat damage, boni to damage and armor. If a melee or ranged weapon is used has no real importance for now, use the weapon you feel safer (melee will have the larger damage value, ranged the distance advantage) - as long as you use also a shield. After Safeguard is maxed bring Righteous Fervor to 9/16. Then start the second mastery, bring the Necromancer mastery bar to 5/50 and max Spectral Binding for the flat damage. This is followed by raising the Oathkeeper mastery bar to 32/50. The intention behind this step is Rebuke and its flat damage. So invest one point in Presence of Virtue, max Rebuke followed by maxing Righteous Fervor. After finishing the first act, go to the Ashes of Malmouth area, get a movement rune (e.g. Emblem of the Shadowy Assassin), and farm a Sandclaw Slicer in the Korvan Plateau (simply go to the Korvan Plateau Rift and repeat). If you find two acceptable Slicer, keep them both. In this early phase, attribute points were invested equally in Physique and Cunning (until both have reached 30).

After the necessary reputation with Devil's Crossing is reached, craft a Bladesworn Talisman. If you have no second Sandclaw Slicer, farm one. After having the relic and two Sandclaw Slicers, respec - remove all points from Safeguard, invest one point each in Smite and Reaping Strike, and the remaining 10 points in Consecration. Smite and Reaping Strike are one pointed as both are dual wield attacks and even this minimal investment increases therefore the damage. Also, use in both weapons Chipped Claws and both Slam attacks. Good levelling gear are for now Ascended Casque (physical resistance) and later Fleshwarped Pauldrons (+3 Righteous Fervor) - especially the latter is a must have. Go back to the Korvan Plateau and farm new Slicers if higher level version become available (20/40/55/70/84/94).

With the next skill points, finish Consecration and bring Presence of Virtue to 5/12. Raise the Necromancer mastery to 15/50, and invest one point in Spectral Wrath and Necrotic Edge each. Spectral Wrath provides physical resist reduction, one pointing Necrotic Edge has the same reasoning as one pointing Smite / Reaping Strike earlier. With each following level up increase Spectral Wrath by 1 and the Oathkeeper mastery bar by 2. After both, Spectral Wrath and the Oathkeeper mastery, are maxed, put one point in Guardian of Empyrion, Divine Mandate and Celestial Presence each, Then max Celestial Presence and Divine Mandate. This is followed by maxing Presence of Virtue, and one pointing Haven and Resilence. If you have the necessary material, replace the Chipped Claws by Oleron's Blood. Also, replace your Bladesworn Talisman with a Bladedancer's Talisman as soon as possible - the blueprint is sold by certain vendors (e.g. by Hyram in the Steelcap district).

The next level ups are used to increase the damage output by increasing the WPS, so max Smite, followed by Reaping Strike and finally Necrotic Edge. After this point, different paths with different skills are possible. Here, quite some points which could alternatively also be invested in skills are used to max the Necromancer mastery bar. The reasoning is rather simple, I wanted a build with as less as possible necessary skills to use and have as much as possible attributes from the mastery bar to increase the OA/DA/health of the character. While maxing the Necromancer mastery bar, invest one point in Mark of Torment and Vire's Might. After the Necromancer mastery bar is maxed, bring Haven to 8/10 (will be 10/10 with gear at the end).

After ending Elite (but before moving to Ultimate), try to get an acceptable Gargoyle Girdle and good Sandclaw Slicers. Check if you have the Elite Fettan Mask, buy the faction gear (Bysmiel Vile Seal, Rhowari Grips, Elite Legion Greaves) and craft a Blademaster's Talisman if you own the blueprint. If you have already found one part of the (Mythical) Myrmidon Bastion Set, try to get a second one using transmute a part from a different Epic set. Otherwise, use other gear until you have the both required parts from the set for the final build. However, depending on RNG-luck, transmuting can be rather expensive. I needed all my scrap and all my money (2.000.000) to get one - even had to sold collected epic gear to be able to afford it. For now, instead of bringing Righteous Fervor to 24/26 with a Gargabol's Ring, two Bysmiel Vile Seals are used. To farm Gargabol's Ring can be a bit of pain and doing it only for the final build saves some time. After all this gear changes are done, adjust the skill points invested in the WPS so that there is still a combined 100% chance (here: Smite max, Reaping Strike 11/10 with gear and Necrotic Edge 5/12 with gear - to have a slightly stronger multitarget WPS focus).

After Haven has reached 8/10 (without gear), invest one point in Judgment and max Crushing Verdict. Crushing Verdict is used to reduce the enemy Defensive Ability and therefore the our chance of critical hits - necessary to proc Assassin's Mark but also a nice to have bonus as Divine Mandate increases the critical damage. Then Mark of Torment is brought to 6/10 and Resilence to 5/12 (both with gear). The mid-Ultimate gear Update includes now Gargabol's Ring (to bring Righteous Fervor to 24/26) and Mogara's Fangs (easy to farm physical damage amulett). Again, the skill points invested in the WPS are adjsuted to keep a 100% WPS chance (Smite to 12/10, Reaping Strike 9/10, Necrotic Edge 7/12). Replace the augments as soon as enough material is available. If your first Blademaster's Talisman had bad rolls, it should now also be possible to craft a second or third one.

The last 5 skill points are free to use. Here they were invested to bring Resilence to 7/12 and Mark of Torment to 9/10. Another option would be e.g. Ascension and Clarity of Purpose. However, as the gear provided enough OA boni, having the temporary OA bonus from Clarity of Purpose was considered as not necessary.

Some general comments: The area of effect proc from devotions was always binded to Righteous Fervor to increase the proc chance. This was first Bull Rush, followed by Maul. Assassin' Mark was first binded to Smite, in the final build it should (well) have been binded to Mutilate - a high OA is necessary to be able to proc it reliable. Chipped Claw and Oleron's Blood skills are seemly dual wield attacks, and helpful in bossfights until late midgame. There is quite some RNG-luck necessary to get good gear, the used Slicers are the best out of 50, the shoulder armor was a random drop from a hero, the pants are the best out of 10, both Gargabol's Rings used were drops in the first run in Elite and Ultimate each, and the (double rare) amulett was gained in the third farming run. Therfore, always keep more than one of each item in your stash so that you can create the best combination using the gear found.

Factionwise, the character sided not with Kymon's Chosen (well, you are a Necromancer - so your side with Order of Death's Vigil). Barrowholm was kept friendly to be able to fight Ravager. Cult of Bysmiel were selected in Veteran to get easy access to their basic movement rune. In Elite and Ultimate, Cult of Dreeg was selected to have an additional area to farm the girdle (and the used one was farmed there). However, at the end, you need maximum reputation with all three cults, so select the one you prefer (e.g. movement rune from quest) in the following difficulties.
Character Snapshots
Devotions

Crossroads blue
Bull
remove Crossroads blue
Crossroads purple
Toad
remove Crossroads purple
Assassin's Blade
Sailor's Guide
Dire Bear (first point)
remove Bull
finish Dire Bear
Stag
Panther
Solemn Watcher
Scales of Ulcama
Hammer
Crossroad purple
Crossroad blue
remove Panther
Eel
right three nodes of Obelisk of Menhir (up to DA bonus)
Vire, the Stone Matron
4 nodes of Azrakaa (here - without head and proc)

The devotion setup targets at increasing the area of effect damage using procs from devotions. Early it will be Bull with its Bull Rush, later it is mainly Dire Bear (Maul) and Vire, the Stone Matron (Fist of Vire). Assassin's Blade is nevertheless still taken rather early to level up the proc. Quite some of the devotions also contribute to the final armor value (Vire, Dire Bear, Obelisk of Menhir). For increased damage Dire Bear, Vire and Azrakaa provide boni. Toad and Scales of Ulcama provide Attack damage converted to health, the latter also a proc with flat resist reduction and partially converted damage. The setup with Solemn Watcher and the three nodes of Obelisk of Menhir is used to increase the defense (armor, Defensive Ability), so that only the Offensive Ability must be covered by the gear.

Note that Assassin's Mark is not binded to Righteous Fervor, instead Maul is binded to it (to have it proc as often as possible). For Assassin's Mark one of the higher percentage WPS should be used (here: Mutilate), which requires a rather high Offensive Ability to have it proc often enough.

see Grimtools (note the missing binding of Assassin's Mark - should be binded to Mutilate)
Gear

This build relies on specific Monster Infrequent (MI) and Epic items. Core items are two pieces of the Myrmidon Bastion Set and Sandclaw Slicers. It is important to farm suitable MI version more than once. However, while levelling, acceptable ones will be good enough, as they must be exchanged later by higher level versions. In case of amulett and ring, a good rolled lower level version might be better than a not so good rolled higher level version. Epic sets pieces can be transmuted within the set or to a different set, use this option if there is no RNG-luck in getting the required pieces. For the boots and gloves slot random drops / crafts or Epic / Legendary items might provide better stats - faction gear is used here to keep the build cheap and also the provided resistance by the gear.

Monster Infrequents:

weapon: Sandclaw Slicer - Rebuke, Presence of Virtue boni, can be farmed at different spots (e.g. Korvan Plateau), also sold by Yurrith
amulett: Mogara's Fangs - physical damage MI amulett, can be farmed from Mogara, the Prime Matriarch
shoulder: Fleshwarped Pauldrons - +3 Righteous Fervor, bonus to armor
pants: Solael-Sect Legguard - Adcth, resistances, can be farmed from Guardian of Solael
girdle: Gargoyle Girdle - +1 to all skills in Oathkeeper
rings: Gargabol's Ring - +3 to Righteous Fervor, physical damage ring, can be farmed from Gargabol, Heart of the Wild

Faction Gear:

rings: Bysmiel Vile Seal - faction physical damage rings, with +3 to Smite and Reaping Strike and attack speed
gloves: Rhowari Grips - faction gear attack speed gloves
boots: Elite Legion Greaves - physical resistance faction boots, can be replaces by better random drop or craft

Epic items

head: Fettan Mask - +1 to all skills, guaranteed drop from Urn Cluster
chest: Mythical Myrmidon Chestguard - +2 to Reaping Strike, set bonus
medal: Mythical Myrmidon Revered Star - +2 to Rebuke and Spectral Wrath, set bonus

Relic:

Bladesworn Talisman - dual wield melee weapons, WPS
Bladedancer's Talisman - dual wield melee weapons, WPS
Blademaster's Talisman - dual wield melee weapons, WPS
What Else / What Now
Go Farming: The character is able to farm totems, challenge dungeons and nemesis and in the Shattered Realm in Ultimate relatively safe. Crucible farming around level 130 - 150 should also be possible (safer should be around level 100).
A potential S&B endgame build using the Warborn set is @tqFan
Or check the Build Compendium X (Forgotten Gods) - #3 by Stupid_Dragon for other current endgame Oppressor builds.