INTRODUCTION
The reason behind this build is to use The Mageslayer set which empowers Olexra's Flash Freeze (works on nemesis) and makes useful its fire resistance reduction. OFF is combined with Vire's Might and Judgment. Both are fully converted to fire and have reduced cooldowns. It is extremely funny build - you freeze enemies with OFF, judge them and then skate through them using Vire's Might. You can be practically in constant movement and if you play carefully you don't get hit much + freezing enemies with OFF. This build kills everything quite fast. SR 65-66 is relatively easy.
I have other builds using OFF here. I also have other skater builds here. All my builds are here.
Here is a list comparing all my Olexra builds from best to worst. All are at least SR 65-66 capable.
GRIMTOOLS https://www.grimtools.com/calc/0V0ag51Z
Crafting bonus on helm, belt and ring is to stun resistance. Build uses one monster infrequent item - Zarthuzellan's archive - try getting a prefix with physical resistance.
Stats of the build

OFFENSE

high critical damage - 93 %

OK OA - base close to 2950 OA and with Ascension around 3100 OA

high fire resistance reduction - up to 79 % without OFF and up to 197 % with OFF

damage from devotions - Magi, Solael's Witchblade, Ulzuin's Torch and Revenant

DEFENSE

OK life above 12500 HP

OK DA around 2950 DA

OK lifesteal 10 %

freezing enemies using OFF

with good movement you can reduce getting hit

OK CC resistances without Ascension (high CC resistances with Ascension)

reasonably overcapped resistances

OK physical resistance 23 %

lower armor - above 1900

% damage absorption from Maiven's Sphere of Protection

flat damage absorption from Ascension

Ghoul

Serenity

Prismatic Rage from component

Mirror of Ereoctes (saves the day when things go tough)

Nullification
image from the game with passive buffs only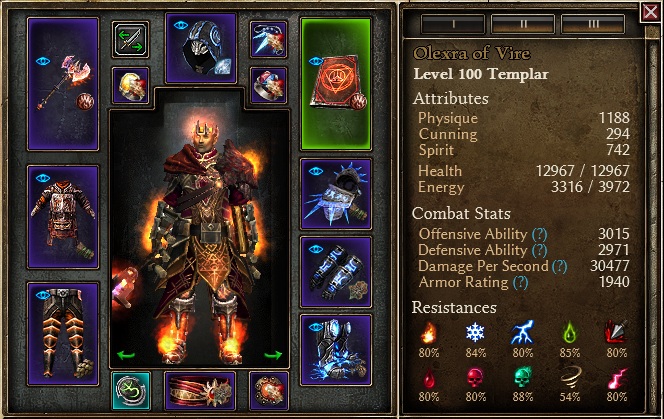 image from the game with passive buffs + Ascension
SR, CRUCIBLE
I play SR with camera pointed away from enemies and I try my builds only in SR 65-66 and SR 80. I play around 10 SR runs per character.
This build does SR 65-66 relatively easily. It can even do SR 80 with good mutators (if you can freeze enemies) but it is tougher. It is squishy in SR 80. If you can't freeze Grava and Reaper it would be impossible in SR 80.
I don't play Crucible so I don't have a time number for it.
Image from SR 66