INTRODUCTION
The idea behind this build is to combine Olexra's Flash Freeze fire RR using The Mageslayer set with fire Albrecht's Aether Ray. Build is also using Star Pact, Aeon's Hourglass, Aldanar's Vanity and Eternity for massive CDR. It is extremely funny build with nice DPS, huge fire RR and OK life sustain from devotions. Freeze a nemesis and fry it with a laser

Demolitionist is used because of its elemental RR, OA, DA, total speed, DA reduction, Blast Shield, health regeneration and because of bonuses from necessary items.
I have other builds using OFF here. I have other laser builds here. I have other fire casters here. All my builds are here.
Here is a list comparing all my laser builds from best to worst. All are at least SR 65-66 capable.
Here is a list comparing all my Olexra builds from best to worst. All are at least SR 65-66 capable.
GRIMTOOLS https://www.grimtools.com/calc/4Vxkpyr2
Build needs two monster infrequent items - Chains of Ygraad and Alexander's Legguards. Ideally you want affixes that give bonuses to OA, DA and fire damage. Crafting bonuses are to physique on both helm and dagger. You could make them for stun resistance instead but enemies are frozen most of the time so it is not that needed.
Stats of the build

OFFENSE

nice DPS 190k

OK crit damage 35 %

OK OA - above 3050 OA

305 DA reduction to enemies from Flashbang + Annihilation

almost capped cast speed (with good rolled items)

huge fire RR, up to -230 % RR !!! (fire RR from OFF, Elemental Storm, Thermite Mine and Solael's Witchblade)

DEFENSE

lower life around 11 000 HP - managable with other defenses

freezing even nemesis with OFF (because of full Mageslayer set)

OK DA - 2900 DA

55 OA reduction to enemies from Annihilation

fumble and impaired aim from Flashbang

% damage absorption from Maiven's Sphere

Mirror of Ereoctes

Nullification

Blast Shield

healing from devotions - Behemoth and Bat (conversion from vitality to fire and aether)

flat damage absorption from Phoenix

OK physical resistance 21 %

lower armor above 1750

high CC res

maxed resistances with reasonable relatively decent overcap

Prismatic Rage from component

huge CDR from Star Pact, Aeon's Hourglass, Aldanar's Vanity and Eternity - this is the thing that makes the survivability of this build (freezing often with OFF, more Mirror uptime, more Giant's Blood uptime, more Phoenix uptime) + OK life leech from Bat
image from the game with passive buffs only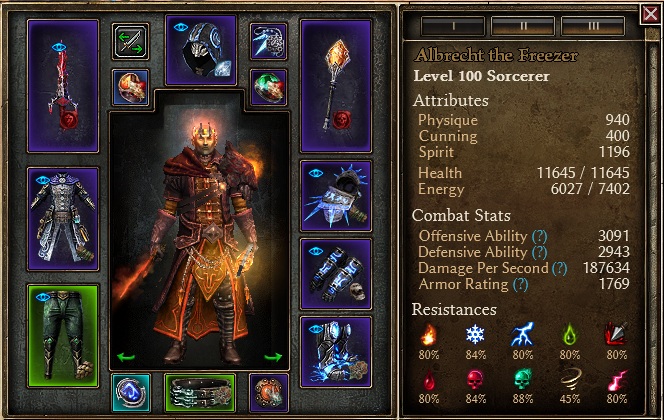 SR, CRUCIBLE
I play SR with camera pointed away from enemies and I try my builds only in SR 65-66 and SR 80. I play around 10 SR runs per character.
Build is capable of doing SR 65-66 and a skilled pilot can go higher with it. But be aware of a mutator that increases enemy's CC resistances in SR (with that mutator fights with Mad Queen, Grava and Gargabol are like cat and mouse because you can't freeze them - without that mutator you can freeze them and they are OK). You can't tank everything everytime but if you reposition yourself carefully using Displacement and you know the bosses you can beat SR 65-66 relatively easily. It can even do SR 80 with good mutators (if you can freeze enemies) but it is tougher. It is squishy in SR 80. If you can't freeze Grava and Reaper it would be impossible in SR 80.
I don't have a time number for Crucible because I don't play it.
Image from SR 66