INTRODUCTION
Hey guys,
This is the first in a series of builds that I will be posting, that try to cut away some of the confusion regarding leveling guides. I have often noticed the same formula, where the poster will show real examples of their characters, and it can become confusing for newer players, because of certain skills being boosted, and them not knowing how to make sense of the point investment. In these guides, I will provide mostly theory crafts with only the items that I recommend farming, with no affixes on them, to provide as plain and simple a view of the leveling process as possible. When I do have a real example of my character at that level, it will be presented alongside a theory craft version to show the possibilities as well as the bare minimum for that point in the journey.
Note that these guides will stop at 75, as I find it preferable to start farming for realistic endgame builds that can be farmed for around the 75-95 mark. I will still show an example of a completed build with just SSF (solo self-found) gear, but I encourage people to figure out what they want as an endgame build before getting to max level, so they can start recognizing and saving items for the inevitable switch.
THE BUILD
For this guide, we will be focusing on making a pure Soldier, using the Forcewave ability. Soldiers have an amazing balance of damage, defense, and sustain that will allow us to have an easy and satisfying journey that is also hardcore viable.
Forcewave is a medium-range spam ability, that both does great damage, but also hits many enemies, making it perfect for beginners and those looking for an efficient leveling build.
I have chosen to go monoclass, specifically to allow you the greatest freedoms regarding endgame builds, so as not to lock you in, as Soldier has some of the most versatile class combos in the game, capable of all styles of play.
GAMEPLAY
The majority of your gameplay with Forcewave revolves around grouping packs together and spamming them to death. Soldier has some fantastic abilities, like War Cry, which can draw aggro if you are in a group setting as well. In the beginning, you will kite enemies and use FW from a distance, but as you start leveling, and getting tankier gear, devotions, and skills, you will be able to just approach and unload, with no real worries of being killed.
LEVELING
Levels 1-20
During these initial levels, you should focus on getting the first node of Forcewave and, more importantly, getting the branching node Tremor. Try to max FW out as soon as you can, and take a couple of spare points in Menhir's Will, Military Conditioning, and Blitz to give you some extra sustain and a movement skill. You should also try to get the guarantted drop, Hevill's Greatsword. By level 10, you should look like THIS.
Now you should progress further down the mastery bar, focusing on maxing out the second node of FW, Rending Force, and picking up some more useful skills, like War Cry, Veterency, and putting a few points into our first toggle skill, Field Command. You should also have outgrown Hevill's by now, and be looking for % Physical damage pieces and generally pieces with high armor or resistances. You will also be finding useful components to help with resists, like Scavenged Plating and Mutagenic Ichor. You should also have a few devotion points, and start working down the Assassin's Blade constellation, getting some extra % Phys damage, and eventually some -RR (minus Resist Reduction - lowering the enemy's ability to resist your damage type.) By level 20, you should look like THIS
Levels 21-50
For the next 10 levels, you should be primarily focused on getting the third node of FW, Internal Trauma maxed. With your main damage dealer maxed, you can focus more on getting supporting skills, like Decorated Soldier and Squad Tactics, and progressing the mastery bar further, for better survivability. At level 30, you can begin to farm for our main synergistic weapon, Obsidian War Cleaver from the Chthonian Vanguard type enemies toward the end of the main campaign. They drop at level 30, 40, 55, 70, 84, and 94, and should be farmed around each of those level breakpoints to keep your damage consistent. Keep in mind that certain affixes will affect the exact levels of the drops, and that you should be looking for affixes like Tyrant's, Vampiric, of Ruin, and others that boost % Physical damage. You can also look for other supportive items, like Chosen Gaze in Forgotten Gods, or Shambler's Heart around this time, should you so choose. At level 30, you should look like THIS
We will take a slightly larger jump here, as we build up toward our capstone skill of choice Oleron's Rage for the massive increase to you damage and speed, and max out Field Command and Squad Tactics. As you gain more devotion points, you have the choice of going for more proc skills by going with Dryad, Eel, Hound, Solemn Watchtower, and Scales of Ulcama, or more 2H capability with Toad, Ulzaad, Eel, and Kraken. It's really up to personal preference, but I find the Scales route to be preferable for HC, so I went that direction. By 50, you should look like THIS
Levels 51-75
You should be moving on to Elite at this point, so definitely keep outfitting yourself with the best components you can, and note that at 50, 65, 70, and 90, you will gain access to Augments from faction shops, that can increase your resistances to their caps, and augment your weapons and jewelry to have additional damage. These levels should be about investing in all of the auxiliary skills that will help with survival, like Military Conditioning, Veterency, Decorated Soldier, and Scars of Battle. You will also finish your devotion map in this time, and will need to pick up a movement augment like Glyph of Rahn's Might or any other dash type ability with DoT (damage over time) to proc one of our devotions, as we don't have many active abilities. By 75, you should look like THIS
My actual character, looked like THIS at the time, to give you an idea of the build with other items as well.
Levels 75+
This stage of the game is when you should begin focusing on what you want for an endgame build. I chose to follow @AlkamosHater's
[1.1.6.0] Physical Forcewave Warlord sr100/75-76 easy farm/celestials for my build, which is why I do not have a screenshot of the actual character I was using at 100. This build was very easy to create, thanks to target-farmable set, and legendaries that drop like candy. My version of the build looks like THIS (basically exactly the build he posted)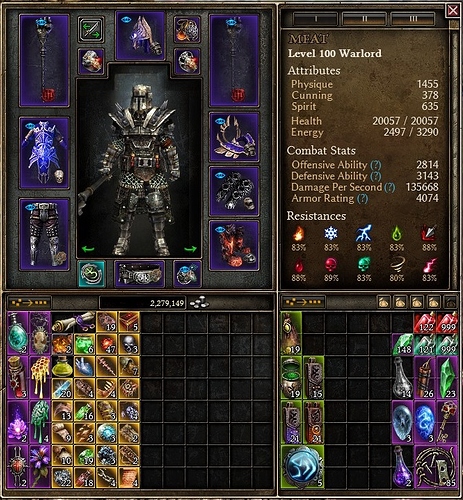 Most people starting out will not have a farming character for SSF farming, or be playing in MP as I was for this run, so I would say that a realistic looking version of this build, at 100, would look like THIS
DEVOTIONS
For this build, I am using @AlkamosHater's devotion path from his FW Warlord, but I really like the path, and it suits this build well.
Just to reiterate, here is the full devotion path:
White
Assassin's Blade
Dryad
Hammer
Blue
Eel
Hound
Solemn Watchtower
Respec Blue
Right side of Scales of Ulcama
Toad
Ulzaad, Herald of Korvaak
Kraken
Most of Ghoul
Most of Azraaka, the Eternal Sands
2 points in Obelisk of Menhir
Endgame Options
There are tons of possibilities for Soldier in the endgame, but I've selected a few that are relatively easy to make, mostly using target-farmable gear or frequently dropping gear.
Warlord
Witchblade
Warder
These are just some of the many builds you can make, and not even all the class combos are represented here. Soldier is incredibly versatile, and I just wanted to show the variety of playstyles with this sampling
THANKS
Thanks to @mad_lee, @fretheo, @nery, @AlkamosHater, @Slev1n, @eardianm,@Afanasenkov26, and the Grim Dawn community.