INTRODUCTION
I have not yet made a physical spinner so that is what I bring to you this time. It is a physical EoR Sentinel. Build uses typical setup with Warborn set + Beronath sword. Other items are also typical for a physical melee build. One thing that is just very atypical is the amulet. I chose conduit for chaos EoR. It converts fire damage to chaos on EoR and gives flat chaos damage. These two bonuses practically cancel out each other for our physical build but it also gives us impaired aim on EoR. DPS loss from the amulet is negligable 5k - 10k DPS depending on procs. So no loss really. Build also has up to -126 % physical RR. It can do SR 80 relatively easily.
I have other spinner builds here. I have other physical melee builds here. All my builds are here.
Here is a list comparing all my spinners from best to worst. All are at least SR 65-66 capable.
GRIMTOOLS https://www.grimtools.com/calc/xZyLL0eV
Crafting bonuses on amulet, helm, boots and sword are to slow (2x) and freeze (2x) resistance.
Stats of the build

OFFENSE

nice DPS 260k - 390k

OK base OA - around 2850 OA (nice OA with Ascension - above 3150 OA)

up to 291 DA reduction to enemies from Judgment and Annihilation

nice critical damage 60 %

nice physical resistance reduction from Curse of Frailty, Guardians, Assassin's Mark, Deathstalker, Scales and ring - up to -126 %

damage from devotions - Azraaka and Scales

DEFENSE

OK life above 12500 HP

OK DA - above 2850 DA (Resilience increases it more)

up to 235 OA reduction to enemies from Dark Desires (skill from Rune), Shifting Sands, and Annihilation

OKish lifesteal 11 %

OK CC resistances without Ascension with crafting bonuses to slow and freeze resistance (high CC resistances with Ascension)

high disruption resistance from Possession

reasonably overcapped resistances

nice physical resistance 38 %

high armor - around 2500 (Ulzaad's Decree increases it more)

% reduced damage to enemies from Soulfire

flat damage absorption from Ascension

18 - 25 % chance of impaired aim from EoR or Shifting Sands

healing on standby from Blood of Dreeg

+3 to all max resistances (+7 with Resilience active)

lifesteal from Scales

Prismatic Rage from component
image from the game with passive buffs + Blood of Dreeg
image from the game with passive buffs + Blood of Dreeg and Warborn (practically always up)
image from the game with passive buffs + Blood of Dreeg, Warborn, Ascension, Battlecry, Windshear and Ulzaad's Decree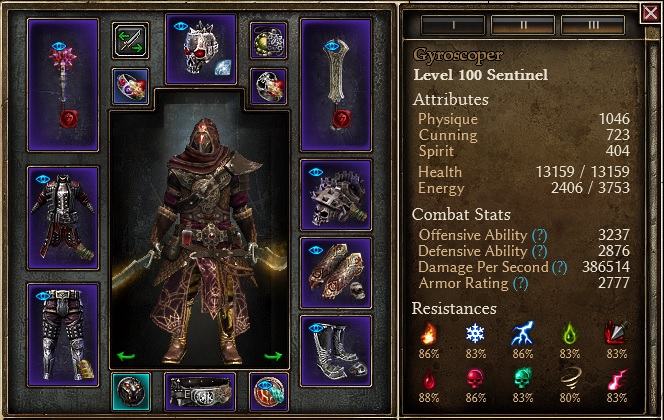 SR, CRUCIBLE
I play SR with camera pointed away from enemies and I try my builds only in SR 65-66 and SR 80. I play around 10 SR runs per character.
This build does SR 65-66 very easily. It can even do SR 80 relatively easily. Bosses go down fast. Reaper is dangerous but doable. I don't push my characters higher but it can go higher if you are a skilled player.
I don't play Crucible so I don't have a time number for it.
Images from SR 80