Introduction
Before FG expansion I made budget Infiltrator and Malawiglenn gave me the idea to connect it with build diary with leveling tips,so finally star to work on it.It's a two week project,next is going to be the final second part.This is aimed for players struggling to reach end game or beginners in GD.There are lots of topic to discuss mechanics,I will not be doing it here
End Game builds
My budget Infiltrator,MAIN FOCUS >>> [1.1.2.5] Chillstrifes Infiltrator on medium budget-mostly blues updated for FG,Inquisitor Seal now is a must
Final goal https://forums.crateentertainment.com/t/1-1-1-2-cholol-the-breathtaking-deathmarked-blademaster-gladiator-6-08-and-sr-80-viable/47346 build with Deathmarked set by Veretragna
Skills
Beronath fury Main attack from Shard of beronath component
Ring of Steel Frost chance,fumble from circle of slaughter
Pneumatic Burst Heal,Shadow dance offers Defensive ability
Word of Renewal Second Heal,also nice bonuses
Amarasta's Blade Burst Mainly used for Lethal Assault proc,monster buff to our attacks
Shadow StrikeMobility and damage skill
Inquisitor Seal Very good defensive skill,also have offensive compartment
Diary
Phase 1
1-20 level

build at level 20
GT link https://www.grimtools.com/calc/q2mPPk0N
Skills&Items-Start with Inquisitor mastery,main attack is gonna be Words of pain,it kills trash quickly and proc devotions like crazy,energy consuming though.I put 1 point in ice rune and biting cold debuff,Words of Renewal to save in tough situations.Is good to use weapon+off hand with energy regen
Devotions-Start with green affinity,then bat and attach twin fangs proc to word of pain.Option is to start with Tsunami.Next start to work with Quill.
Phase 2
20-35 level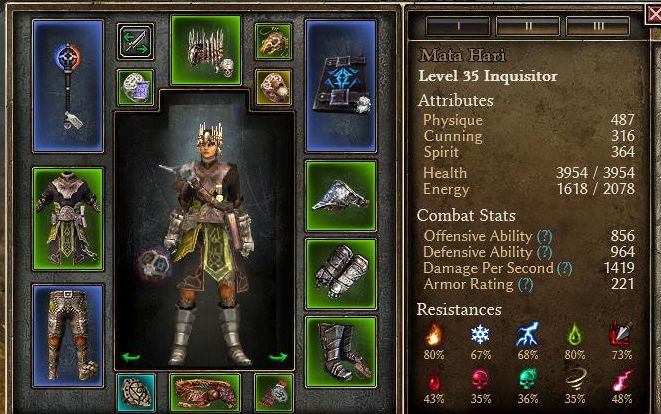 build at level 35
GT link https://www.grimtools.com/calc/qNY44R4Z
Skills&Items-We are yet to pick Nighblade,focus on Inquisitor mastery.Max it to reach Censure.This aura will kill trash mobs quickly and will provide tri-elemental resistance reduction for pain and later cold for our skills.You can put more points in Seal,if you are dying.Bosses will be slower,due to lack of single target damage.For relic our first possible is to take from Find lost elder quest,just click lie to keep it,later you can craft Vendetta,if you have the faction recipe.
Devotions-Full quill and we work on elemental storm proc from Rhowan crown
Phase 3
35-50 level

build at level 50
GT link https://www.grimtools.com/calc/gZw66KqV
Skills&Items-I decide to switch my build to DW melee around leel 40,when pain start to lose power.Beronath requires level 55,so option for DW is Troll Rage from Mistborn relic.Here we choose Nightblade and take a point in dual blades and our second heal-pneumatic burst.Amarasta with Lethal assault to boost our damage.Veil of shadow and night chill for cold damage aura and resist reduction
Devotions-Take hawk for offensive ability,to be able to crit mobs and star to work with sailor's guide-movement speed helps with quicker leveling
Phase 4
50-65 level

build at level 65
GT link https://www.grimtools.com/calc/gZw6W4nV
Skills&Items-Finally option is to use Beronath Fury as attack replacer.At 65 start to emerge good faction items,some are useful to warrant place in this build.Got decent shoulders from Log.Also changed relic to faction recipe bought Vendetta.Progress with skill bar to Nightblade,our best wps skill is Execution!
Devotions-finish sailor's guide and set sail for Murmur.Murmur proc grants cold RR.
Phase 5
65-80 level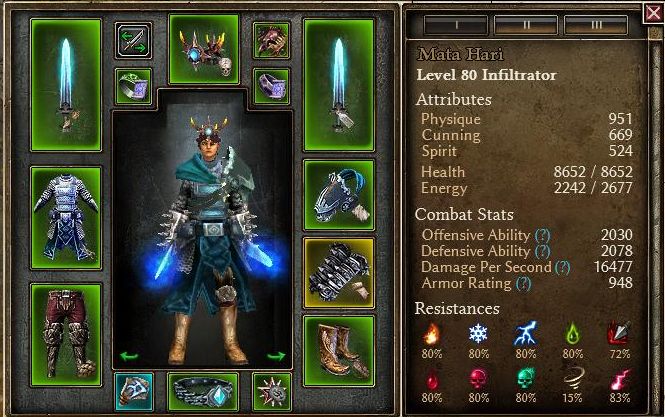 build at level 80
GT link https://www.grimtools.com/calc/eVL0OmPV
Skills&Items-Full green power.So many good MI and also faction gear.At this point elite harvest footpads can cover your resistances.Also at 70 you can start to use augments,I forgot to put on rings,but since Devil's crossing is easy to reach revered,you can use some armor augments and also ingenuity on jewels.Skills,reached end of Nightblade tree,now is about pumping points in skills we need most.
Devotions-Ultos,Viper,Ghoul.One can argued,that ghoul should be used early,but it depends whether or not you are dying.Amatok+Ultos gives a lot of cold damage.
Phase 6
80+ level
Look for reference updated budget build.You can equip Silver Sentinel at 82.Also most crafed items are available.We start to focus on more stats.OA,DA, also armor are important.To help us,we can count on more components and augments
Leveling tips
Is important to increase resistances while leveling,top priority
DA,when you fight against bosses,check it,they shouldn't have the chance to crit you
-OA,you need enough to hit enemies,if you crit them is even better
-Use greens that gives you resistances,every few levels replace the gear with least armor
-Valuable weapons for DW build-Chillstrifes form bosse Janaxia and Larria in act 5,Malkaddar sword-guaranteed drop from that boss,note you should choose Kymon as faction,Spectral longsword,farm undeads or SoT vendor.
Faction&crafted gear can also be very good.
Other recommend beginners guides

By @Nery (me)

[1.1.2.5] [caster] Beginner's/budget acid Sentinel
[1.1.2.5] Chillstrifes Infiltrator on medium budget-mostly blues
[1.1.2.5] Beginners/Budget Vindicator,lightning Caster/2h Ranged versions
[1.1.2.3] Beginner's/budget project-DW pierce ranged Tactician
[1.1.1.2] [Caster] Beginner's/budget vitality RE Oppressor,leveling guide inside,Cabalist version added
Builds by @Stupid_Dragon

[DW melee] Beginner's Virulent Dervish
[DW melee] Beginner's Forgotten Blademaster
[shield melee] Beginner's pre-Krieg Death Knight
[2H melee] Krieg Death Knight on budget, the Soul Reaver
[1.0.4.0] Beginner's melee 2H Lightning Elementalist Old but still deserves a mention
[1.0.4.1] Beginner's ranged Tactician Old but still deserves a mention
Builds by @malawiglenn

¤¤¤ Fire Rune and Aegis Paladin (Shield Throw) ¤¤¤

https://drive.google.com/open?id=13HNqa0oaTiOaU_-KfYM_bZSpZD-HaLd-

¤¤¤ Beginner Spinner "spin2win" - Eye of Reckoning Warlord ¤¤¤

https://drive.google.com/open?id=1VYdijhrH_1F85nEa_2ZW98UNrOK-hfie

¤¤¤ Lightning Caster Vindicator ¤¤¤

https://drive.google.com/open?id=1McPdijy-AXXPOMjSWG_CT2FqNQaeYhpo

¤¤¤ Forcewave Spammer Warlord (2H tank) ¤¤¤

https://drive.google.com/open?id=194NGO6Fefhmq3xFDIySEk7VSjAv5xS4j

¤¤¤ Forcewave Spammer Death Knight (2H tank) ¤¤¤

https://drive.google.com/open?id=12KO6S344oTp2K6RLBS7j-SSi9QWZqC-p

¤¤¤ Primal Strike 2H melee Warder (and a Savagery version) ¤¤¤

https://drive.google.com/open?id=1HW3A6ZVgh0eiLA-n9Ee7LzflQyp_hqYz